---
Like a Phoenix rising from the ashes, the former eight-storey Latimer Apartments has overcome its troubled earthquake past to re-emerge as Canopy Apartments – a fabulous complex comprising 40 individual apartments overlooking Latimer Square and its century-old trees.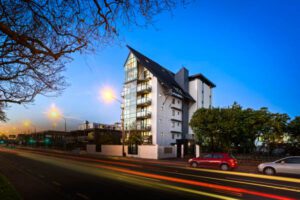 With options of studio, one-bedroom, two-bedroom, and four two-storey penthouse apartments, this is the ultimate in niche inner-city nesting.
Purchased in 2015, the brief given to Weir Architecture was to entirely modernize and reinvigorate the 21-year-old building.
The work entailed reinstating the previously demolished rear section of the building, enclosing the south-facing open external breezeway, incorporating a second high-speed lift, and creating a warm, welcoming covered entry and reception area.
The remainder of the building was meticulously re-planned and reconfigured, floor by floor, to maximise the efficiencies of the limited spaces available.
Superior fittings, materials and finishes were specified throughout kitchens, bathrooms and ensuites, while new double glazing and higher levels of insulation enhanced the building's thermal envelope.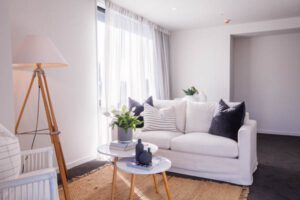 The building is owned by Mark Lanyon and Shane Le Compte of Lanyon & Le Compte Construction.
The pair have completed a number of landmark projects around Christchurch, including the post-quake remediation of an "as is, where is" office building which became the city's tallest hotel, the Crowne Plaza.
Weir Architecture are founding members of the New Zealand Green Building Council.
Imperative to its ethos is to find alternative, innovative ways to repurpose buildings that would otherwise become landfill.
Canopy Apartments is a triumph in sustainable design and construction; it's a building Christchurch can be proud of.
---