---
INGREDIENTS
300g brussels sprouts and their sprout tops, the sprouts halved or quartered, the sprout tops shredded
1 tbsp oil or ghee
400g mushrooms, any type, roughly chopped
3cm piece of ginger, finely chopped or grated
3 garlic cloves, finely chopped or grated
1 fresh red chilli, seeds too, finely chopped
3/4 tsp five-spice
2 bundles of noodles
1 tbsp maple syrup
2 tbsp tamari
1 tbsp lemon or lime juice or vinegar
1 tsp fish sauce or extra tamari
2 tbsp black sesame seeds or chopped nuts or seeds, to serve
Fresh herbs such as coriander or mint, to serve (optional)
Chilli garlic sauce to serve (optional)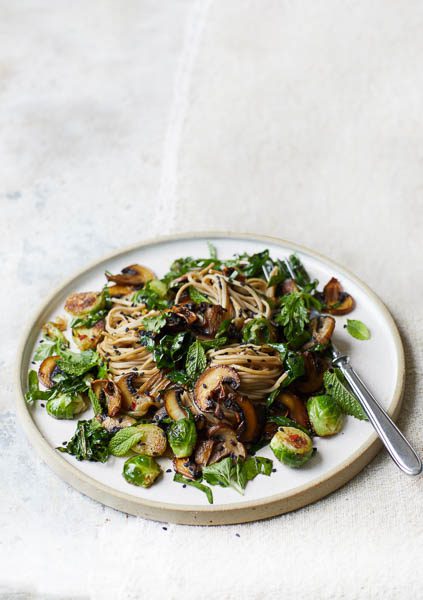 Fry the sprouts in oil or ghee in a wok or large deep-sided frying pan over a high heat for four minutes. For the first few minutes, fry them in an even layer, untouched for a minute or so, then stir or shake the pan to get to the other side.
This will give you nice golden edges, which adds flavour.
Chop the mushrooms, then add them too, stir-frying for five minutes along with the ginger, garlic, chilli and five-spice. If you've got sprout tops, add them now to briefly fry.
Meanwhile, get the noodles cooking in a second saucepan following the label instructions; they should be ready once the sprouts are.
Once the sprouts are tender and the mushrooms have started to go golden and any liquid they have released has been cooked off, add the maple syrup, tamari, citrus (and fish sauce if using) to the sprouts pan and mix everything together.
Finish by adding the cooked noodles and tossing everything together for 30 seconds so the noodles pick up the flavours, adding a tiny splash of water if you need to. Serve with the sesame seeds, fresh herbs and chilli sauce (if using) on top.
Extracted from Eat Green by Melissa Hemsley, published by Random House UK, RRP $50. Copyright © Melissa Hemsley 2020. Photography © Philippa Langley 2020

---