---
There's nothing more personal than getting a piece of jewellery custom-made. Local Cantabrian Sophie Divett is providing a one-of-a-kind experience to her customers in creating beautifully bespoke pieces. Metropol sits down with Sophie to get to know a little bit more about her and her bustling business.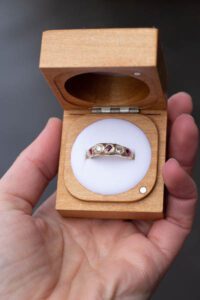 Tell us a little bit about Sophie Divett Jewellery. Where did your passion for jewellery come from?
It started when I was studying for my Bachelor of Fine Art, back in 2012. I was making these very small, delicate sculptures out of organic materials and wire. Jewellery was a very natural progression from that.
---
Is there a certain style or inspiration for your work?
I get a lot of inspiration from things that are 'perfectly imperfect'; Ancient treasures, well-worn and weathered surfaces, objects that become more beautiful because they have history. Everything I make has a very organic feel.
---
What's your environmental policy?
I think about minimising the impact on the planet with everything I do. Metals are recycled, ethically sourced and conflict free. I use sapphires from small-scale operations in Australia, ethically sourced salt-and-pepper diamonds and recycled white diamonds, which are natural diamonds that have been reclaimed from pre-existing jewellery, so no new mining needs to take place. All of my gold rings come in beautiful handmade Rimu boxes and proceeds from these go toward forest regeneration initiatives.
For more information on Sophie's creations, head to her website.
---