---
Two new rooftop bars have brought interest and entertainment to Christchurch's cityscape, in perfect time for the summer social season.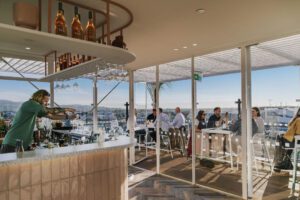 Mr Brightside at the restored Public Trust building on Oxford Terrace and The Pink Lady Rooftop Bar at Muse Hotel on Manchester Street have joined the city's hospitality offerings in recent months.
Seven floors up, The Pink Lady is the latest project from the team behind inner city pub Welles Street, European bistro Earl, and pizzeria and bottle-o, Bottle and Stone.
The latest creation of hospitality guru Tom Newfield, the rooftop bar is atop Muse Hotel run by Sarin Hotels, in the 1960s Peter Beavan-designed building.
Mr Brightside sits five storeys up, atop the restored Public Trust Building on Oxford Terrace, overlooking the Avon River and the city's popular redeveloped hospitality hot-spot, The Terrace.
Mr Brightside is the bright idea of Jeremy Stevens, who co-owns Aikmans bar in Merivale, and it can hold about 100 people.
The Public Trust Office building was designed by celebrated architect Cecil Wood, who drew inspiration from the skyscrapers he saw in New York on a trip in the 1920s.
Both buildings have been restored and reopened for the first time since the earthquakes by property developer and investor Box 112.
And more rooftop bars could be on the way for the Garden City, with The Press reporting a third sky-high spot might be on the cards for the Spark building in Cathedral Square.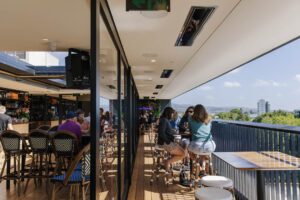 ---