---
Much of our home-grown talent is acclaimed as world class, but few can back it up to the extent that Mal Corboy of Mal Corboy Design can. Mal is a deserving finalist in the Society of British Interior Designers (SBID) international competition with his incredibly beautiful and clever kitchen design for a Millbrook home.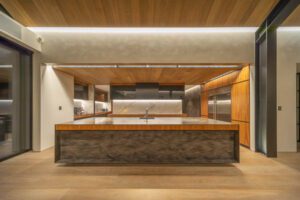 Refined, elegant, with a masculine accent, the kitchen is created in Corian in the specialty colourway Sorrel, combined with American Walnut veneer and glass cabinetry, black lacquer, and black copper.
Corian is also used as a thin border around all the cabinetry. "I love the product," says Mal. "You can be so innovative with it."
The homeowner frequently entertains corporate clients, so Mal has created a spectacular scullery behind the kitchen accessed through electric doors, which houses a preparation area, twin sinks, dishwasher, oven and steam oven, and two wine fridges. To the left of the kitchen is a designated coffee bar area.
Mal also designed the bathroom, where the inverted façade of the smoky grey cabinetry with Corian benchtop is a play on the views of the Cardrona Range.
Both kitchen and bathroom encapsulate a simple sophisticated look, "I am most pleased with how the contemporary interiors compliment the house, yet provide a distinctive singularity," says Mal.
KM Smith Builder brought Mal's design to life, and Director Kerry Smith says: "The kitchen design fits the lounge and dining space perfectly. It is a generously sized kitchen with scullery, perfect because my clients entertain throughout the year."
The entire house is very highly specced, and Kerry's clients were heavily involved in every aspect of the build.
"Together with my foreman, Gary, we worked through all processes to get our clients the perfect result, and Mal was great to get along with and my joiner Coronet Woodware did a fabulous job creating the kitchen," says Kerry.
KM Smith Builder specialise in high-end homes.
"This was right up there in terms of quality. I most enjoy completion stage, where we bring the home and landscape together so that when clients move in, it is perfect inside and out," says Kerry.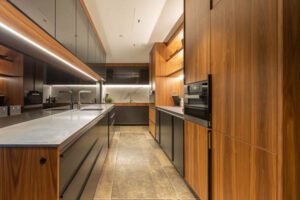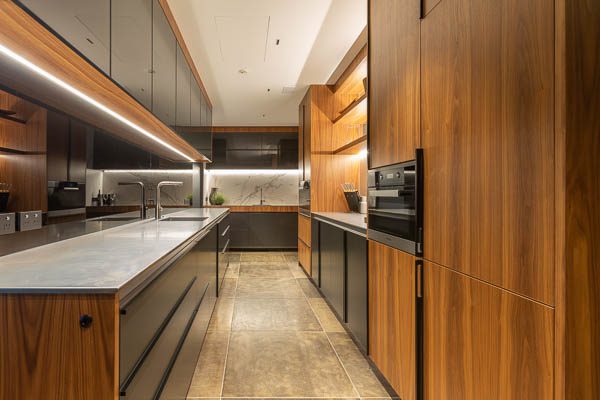 ---