---
Alistair Madill Architects led the team responsible for the fantastic new Watersports Facility on the Lake Wanaka waterfront. The non-motorised watersports facility is designed to cater for community clubs and individuals keen on rowing, lake swimming, triathlon, kayaking and stand-up paddle boarding.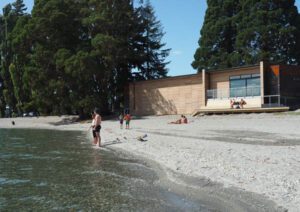 The finished facility has received a Te Kāhui Whaihanga New Zealand Institute of Architecture Southern Architecture Award for its sympathy to its surrounds combined with stimulating yet empathic choice of materials.
Mostly hidden from the road by sequoia trees on a boat-free two kilometre stretch of water, the location went through a careful selection process.
"The project involved significant sensitivities," says Director and Architect Alistair Madill. "The site sits within the Wanaka Lakefront Reserves Management Plan, required a notified consent process, plus an appeal to the Environment Court.
"Physical challenges included flood risk, and the protection of the roots of the two mature sequoia trees on site."
The building itself needed to appear small, yet provide storage for the rowing hulls. Alistair and his team achieved this by splitting the building into three parts.
"We created visually strong elements at each end, with a 'softer' central portion," he says.
The materials selected are Corten for no maintenance, and cedar for long life and low maintenance, with internal materials being hard wearing where needed.
The Breen Construction Company was excited to be involved in delivering this important community asset.
Enjoying the challenges, the construction team particularly appreciated the responsibility of ensuring the root systems of the sequoia trees were safeguarded.
Features including the Corten cladding and the unique form of the cedar rain screens demanded attention to detail and collaboration with the consultants to achieve the aesthetic outcomes, and consideration of ongoing building maintenance.
Operating in Central Otago and the Southern Lakes for over 80 years, Breen takes pride in its involvement in the development of a wide range of community facilities and diverse work through the wider Otago, North Otago and MacKenzie Basin regions.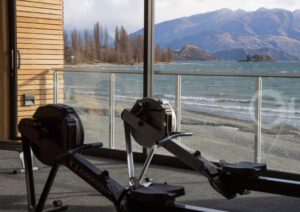 photos
---