---
Kirk Roberts continues to expand the horizons of ingenuity with its Sudima Hotel project in Kaikoura. Designed and engineered by Kirk Roberts, the project was always going to be at the forefront of technology and cost effectiveness.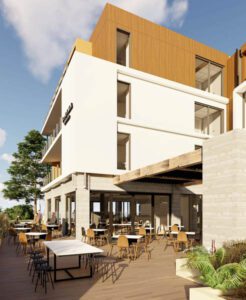 The fully modular building was prefabricated in Christchurch and freighted for assembly on site.
Constructed inside and out in exposed concrete representing the local pier, bridges and volcanic rock, with the white textured concrete representing local limestone rock, and natural timbers to reflect the surrounding hills and mountains.
All materials are proudly Kiwi supplied. "Proving that we don't need to go offshore, but this requires innovative, smart design and a co-operative builder like Calder Stewart," says Chief Executive Jade Kirk.
Building Information Modelling (BIM) means the project is fully modelled to every screw and bolt, meaning, "We have a high level of cost control, with our build cost significantly less than anyone else or anywhere in New Zealand, while retaining top quality."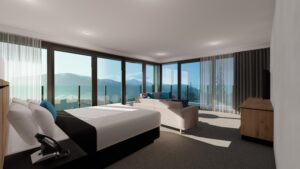 The hotel features 120 rooms, a gym and pool, four-storey atrium and reception, full restaurant/bar and conference facilities, plus indoor and outdoor seating with stunning views to the north, east and west.
"The best thing is the economic benefit to the region: our conservative estimate is 40,000 rooms nights per annum with the majority of visitors new to Kaikoura."
Local Runanga are a financial partner and committed to the success of the hotel, which will be the largest employer in the region with 40 to 60 staff.
"We love this project; we've had great local feedback and we are thrilled to be a part of the success of the region."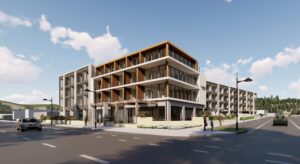 ---