---
An extensive and holistic understanding of his profession has earnt Lovebite's Richard Greenlees a reputation as a true artist and a global leader in the dental profession, creating perfectly formed dentures with the ability to rebuild the facial structure from the inside out, dentures which are indistinguishable from natural teeth; handmade, bespoke and individually characterised.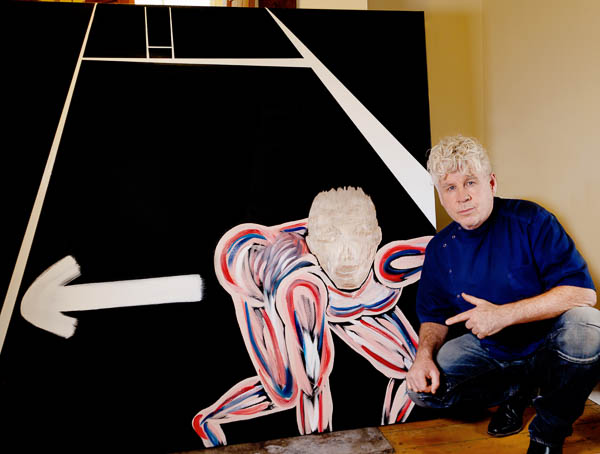 We caught up with Richard about cutting his teeth in the industry and his journey to the top.
Your mother was an artist and your father a carpenter. How did their work influence your career?
Growing up with parents that used their hands to make their living led me to what I do today. My mum Wendy is an artist and has an innate understanding of colour which I think has been transferred to me. Colour comes into play immensely in the fabrication of dentures, crowns and veneers. John, my dad, who has passed, was a carpenter and had an ability to understand things in space and 3D; this helps with my understanding of the empty space left in the oral cavity, filling this space without the denture appearance is where my work sits apart.
---
Can you recall the very first set of teeth you ever made?
The first set of teeth I made at the age of 16 were a disaster… but I see that as fortunate as I soon realised how difficult and how much of an art it is to make dentures for a patient that has lost their teeth. Taking a patient through a rehabilitation programme means so much to me. Now I've got 40 years of knowledge from New Zealand, Japan and Europe where I spent time honing my skills. Implantology is fast becoming an option for patients; this is a very technical approach to rehabilitation and is much more costly, needing planning and time. I am currently looking closely at a new Zirconia system from Europe for these large implant cases.
---
It must have felt like a fantastic achievement to open your own clinic in Harley Street?
Having my own studio on Harley Street was part of an incredible journey for me. I worked with some of the top prosthodontists/dentists in the world and made teeth for many international celebrities. I also made teeth for the average man/woman and treated all my patients in exactly the same manner. Some of the most interesting people were the 'behind the scenes' people… speech writers, directors, businessmen, inventors, fellow artists.
Some very interesting things happened to me during these times… parties, private jets and, ultimately, a role in a British movie! But what drove me then and continues to drive me now is making teeth that improve lives. I can sit at home and see my patients of the stage and screen and have a quiet satisfaction that billions of people are looking at my work, without even realising it.
---
What brought you back home?
To slow down, go surfing and do my oil painting… there were not many waves in London. Funnily enough, I'm as busy as I have always been… but I like it. I still find myself travelling internationally to keep up with technology, or speak at conferences about my approach to dentures and dental ceramics.
---
What are some of the common dental situations you see?
The most common thing I'm presented with in my daily work is what I call a 'collapsed denture face', caused by a lifetime of denture wearing that has taken away a patient's appearance and character – and often their self-esteem. Rebuilding this in a natural way is what I strive to do daily. Understanding a patient's 'oral architecture' and what they have lost is critical. I am fascinated by the face and this is what I lecture about internationally – how to rebuild it.
---
How does it feel to see a client elated by their new appearance?
Seeing a patient restored to their natural appearance is why I do what I do. As I move through the stages of my work, the change can be quite dramatic. This is usually followed by friends querying what they've done and commenting on how great they look. Patients carry on their lives – looking and feeling great and no one knows why; it's their secret. I love this side of my work.
---