---
The Christchurch rebuild has long been about so much more than the physical rebuild; it's also about rebuilding communities and that's perhaps best exemplified by the city's response to the Christchurch mosque attacks – particularly Wayne Marriott's response.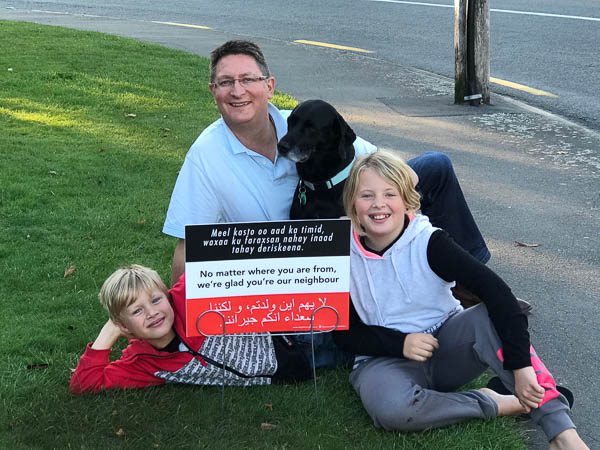 Marriott is in the business of 'peace building' – his umbrella term for doing work to help communities and groups work better together. A qualified mediator and conflict coach, Wayne recently returned to Christchurch after gaining his master's degree in conflict transformation from the Eastern Mennonite University, Virginia, covering topics such as cultural difference in religion, terrorism and violent extremism. In the US he noticed the trend for putting up welcoming signs on private fences and frontyards.
Now he's producing welcoming neighbourhood signs for Christchurch, designed to show respect, create conversations with the neighbours, and show we are celebrating all the cultures that make up the city. "The aim of this type of sign is to embrace multiculturalism by removing the communication barriers," he says.
The A3-sized 'Welcome your Neighbours' signs are in traditional Maori colours of red, black and white. The languages of Somali, English and Arabic are represented on one side, and Fijian, Maori and Samoan on the other. Languages will be rotated at a later date when more signs are ordered. They can be secured on a grass verge with metal posts.
"This an individual's opportunity to show tangible respect – it's both visual and meaningful, even if it just initiates eye contact and a smile from a passer-by. It's about vocalising acceptance, in an inclusive but diverse society." He said so far, the signs have prompted attention within neighbourhoods where the first signs have been launched – even if it is to just stop and say hello and remark on the sign.
A member of the recently formed national Muslim Advisory Group, Wayne is currently launching the signs at a cost of $30 including GST, with shipping additional. As the signs increase in popularity, he hopes to get the cost down and intends to put any profits back into the business of peace building, "The conversation is as wide as we want it to be," he says.
For more information, visit www.waynemarriott.co.nz.
---