---
An artist's impression and portrait of the home is how Jonathan Steel of Art by J Steel would describe his style of client work.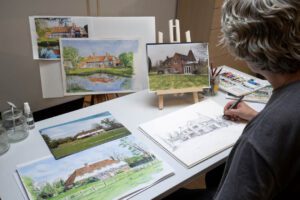 Having a passion for line and wash drawings – a combination of pen, ink, and watercolour – "gives the art a certain character", he believes.
For the two-to-three-week process Jonathan will source a photograph of the property, draw, and then paint the home. He can also give art that finishing touch by framing it.
Whether it is an old family home or a new forever one – he captures its essence on paper.
Contact Jonathan for a commission on 021 038 7706 or email jojosteel@yahoo.co.uk. Or visit his website for limited prints of Christchurch landmarks.
---