---
Christchurch based main contractor Apollo Projects is in the fortunate position of putting broad smiles on the faces of citizens young and old who have been making do or missing out. They do this by bringing much anticipated major sport and recreation centres to fruition in Canterbury.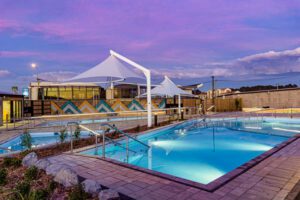 "Christchurch is Apollo's home, so it's really special to be able to bring incredible community facilities to Cantabrians," Director and CEO Paul Lloyd says.
This month sees Apollo Projects start work on Te Pou Toetoe: Linwood Pool.
Christchurch City Council (CCC) appointed Apollo to deliver the city's latest pool complex following Apollo's successful delivery of CCC's Taiora QEII Recreation and Sport Centre in 2018 and the construction of the He Puna Taimoana hot pools, which opened over Queen's Birthday weekend.
Selwyn District Council has appointed Apollo to build the Foster Park indoor courts, which are currently underway and on track to be completed around April 2021.
The courts' framework has been installed and work is progressing steadily since restarting under Alert Level 3.
Once completed, they will include eight courts and a 240-metre indoor walking track on the mezzanine level.
Like Te Pou Toetoe: Linwood Pool, the courts focus on serving community needs, including schools and clubs.
This incredible record of service delivery to Christchurch is about much more than timber and concrete, it's about putting heart and soul into communities, and Apollo Projects puts its heart and soul into that!
---