---
Christchurch-raised ballet dancer, Joshua Guillemot-Rodgerson, has returned
from ten years dancing in the US due to Covid-19 and taken up a position with the Royal New Zealand Ballet. He tells Morgan Tait what it's like to be a performer amidst a pandemic.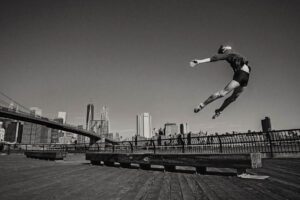 "The biggest way that Covid-19 has affected me is that it has brought me home. It has always been hard to be away from my family, so once Covid-19 hit I got on a plane to come back very quickly.
"The impact of losing shows this year has been really hard. I joined the Royal New Zealand Ballet for the rescheduled season of Venus Rising. The show was ready to open. It was gut-wrenching to have it cancelled and slip from our grasp like that.
Some of the dancers had been working on it for nine months.
"A ballet can quickly become a part of you. When you learn a ballet you spend 40 hours a week working on it, and often take it home with you to study at night, you condition your body to be ready for the most difficult steps — it becomes your world.
"There's also a really big physical and emotional release you get when you finally open a show, it's like the dance has been bottled up inside you for months and then you finally share it with an audience and the experience is no longer just yours, it's electric. It is funny because I usually forget the steps of many ballets soon after we finish performing them, but with Venus Rising, I still feel like I could do that program right now if I was asked to perform it tonight. It's unfinished business.
"It's my fourth time performing the iconic ballet, The Sleeping Beauty, and each time I've gotten to tackle different roles, so it is fun to keep coming back to it from different angles."
---