---
If you're inspired by 'out of the ordinary' in both design and quality of home, you can't go better than a building partnership with Cammell Projects of Queenstown. Focused on high-end architectural residential construction, this bespoke team of carpenters are passionate about their craft, and they all are trade qualified or are working towards their qualifications.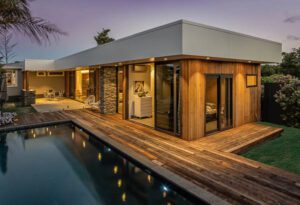 Stefan Cammell is Co-Director of Cammell Projects with wife Andrea.
A dream team, Stefan is a carpenter of 20 years standing and has worked in Australia and the UK, before establishing Cammell Projects 10 years ago, while Andrea has a background in project management, along with a Bachelor of Design Degree and a Diploma in Interior Design.
"I love the building trade because there is something different every day," Stefan says.
"Anything exceptional, challenging in design or difficult sites, that's what we thrive on and it's become a real speciality."
In fact, there are two gorgeous builds in progress at the moment. "Rammed earth, cork insulation and cross laminated timber prefabricated panels make up the bones of these eco-inspired homes," Stefan says.
With a website full of enthusiastic feedback from clients, Cammell Projects' emphasis on quality is clear: Stefan has created a 280-point checklist covering stages of the project to ensure exceptional quality at every step of your build; now that really is out of the ordinary.
---