---
There was a time when we were able to tell ourselves that homelessness happened everywhere else in the world but here. But that was yesterday.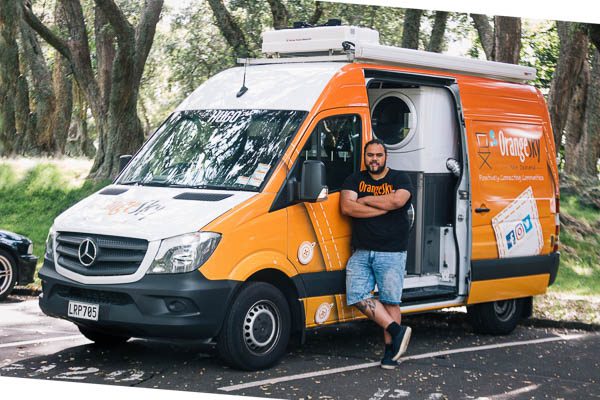 Today, in 2019, there are 41,000 people experiencing homelessness in New Zealand. It's a staggering statistic, but that tally is being challenged and dealt to on a daily basis with the help of an orange van equipped with showers, washing machines, six orange chairs and amazing people with big hearts – people like Eddie Uini of the New Zealand operation, Orange Sky.
A former social worker, Eddie previously helped South Auckland's homeless wash their clothes by partnering with a laundromat in Manurewa. He managed to fundraise almost $50,000 personally for this project, before joining Orange Sky as their sole New Zealand employee and operator, committed to delivering "the best laundry service New Zealand has ever seen".
The three-pronged service provides a safe place to access showers, a clean change of clothes and genuine conversations. "The first things out of our van are six orange chairs for people to sit and talk. Awesome friendships have been forged on those chairs," Eddie says.
Orange Sky was founded in Australia in 2014 by two 20-year-old friends, Nic Marchesi and Lucas Patchett, who installed a couple of washing machines and dryers in the back of their old van and visited parks around Brisbane to wash and dry clothes for free; they saw it not only as a way to improve hygiene standards, but as a way to restore dignity to people doing it tough.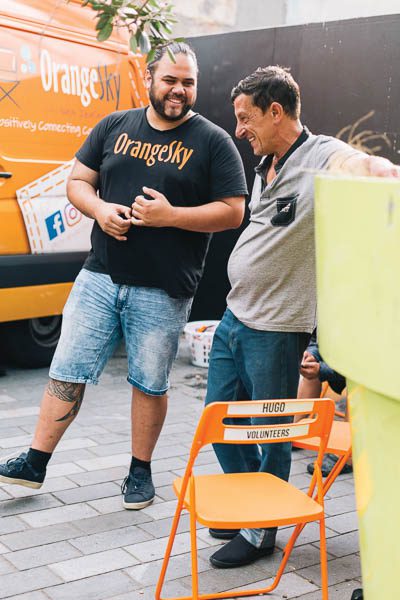 The rising number of homeless people in New Zealand prompted Australia to reach out to their friends across the Tasman and, in October 2018, the New Zealand branch of Orange Sky was launched in Auckland. With a team of 1,600 volunteers and a fleet of 28 vans containing mobile showers and laundry facilities, they help wash more than eight tonnes of laundry per week – for free. To date, they've now washed over 4,700 kilograms of washing, provided 1,686 showers, and had around 2,500 hours of non-judgemental conversation with the homeless of Auckland in 13 locations.
Eddie says a huge reality check for him was the day he found himself washing the clothes of a guy who was in his class at school. "Things can go badly wrong for people for any number of reasons. It made me realise you can't take anything for granted."
Wellington is next in the sights of Orange Sky, and Eddie recently met with our Christchurch City Mission and heard some heartbreaking statistics. He says that ideally, and depending on fund-raising efforts, he hopes to see Orange Sky operating in Christchurch soon. "Kiwis have big hearts and are known for their generosity and supporting their community. We would love for people to continue to support Orange Sky's mission through simple things like sharing our stories, donating and, most importantly, participating in genuine and non-judgmental conversations with our friends on the street."
Visit www.orangesky.org.nz.
---