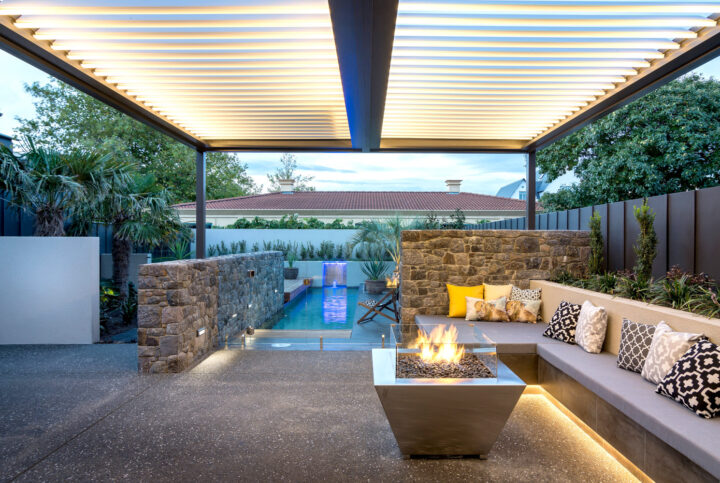 Optimising outdoor living: Louvre Solutions
Don't put your outdoor area into hibernation these winter months. Extend your outdoor entertaining and enjoyment year round, by ensuring you and your guests are protected by the elements.
A louvre roof is the perfect way to optimise your enjoyment of that space, even in the unpredictable winter weather.
Louvre Solutions roof systems are more than just a slatted covering. They are customised with heating, lighting, and ventilation so you can create your own comfort zone, and you have the option of installing pull-down side screens.
Thanks to a rain sensor, the louvres close automatically when it starts raining, just like magic. No more dashing indoors when a sudden shower arrives.
For more than 17 years the company, owned by Craig Rogers, has been manufacturing louvre systems in Canterbury at its Rangiora base.
Only high-quality materials are used, from the New Zealand extruded aluminium louvres and fastenings to the motors and controls imported from Europe.
The metal system is stronger and more durable than traditional patio covers and conforms to nearly all wind and snow load requirements. All the company's louvre roofs come with a 10-year warranty.
Sounds expensive? Not necessarily.
"In the early days premium products like these definitely were expensive," says Craig. But that's changed. "Technology has advanced and has widened the options for customers. Louvre roofs are now within the realms of possibility across the spectrum, from entry-level properties to high-end architecturally-designed homes."
Incorporating a louvre roof system is something to consider in the design stage of your new build to maximise the positioning of your outdoor living space or they can be retrofitted to complement your existing patio or spa area.
The systems are also a practical and efficient way to make the most of your commercial building, enabling heating and cooling control in the office environment or extending the time that you can use your restaurant or cafe's outdoor dining area.
New Zealand's changeable weather conditions are beyond your control but a louvre roof puts you in control of your own microclimate, allowing you to enjoy al fresco living year-round.
"Whether entertaining, relaxing, or simply expanding your indoor area, we can bring your ultimate outdoor environment to fruition," says Craig.
The company has agents in the North Island as well as in Nelson, mid-Canterbury, Wanaka and Queenstown.
Find out about the best Louvre Solutions for you, call 027 535 6286 or email info@louvresolutions.co.nz
Previous Post