---
Spending time dining, reclining or socialising on the decking of your home or bach is synonymous with summer. An almost non-negotiable when it comes to al fresco living (and entertaining), a dreamy deck set up – when done right – can not only transcend daytime and night, but season, too.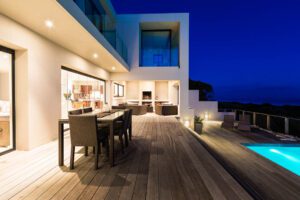 Summer is undoubtedly the season most associated with deck living; as homebodies embrace the outdoors in the warmer temperatures and longer days.
Even as day turns to night, the deck is often a place spent talking and laughing the night away.
As design and technology advances across building materials, furniture and appliances, outdoor areas have evolved from seasonal retreats into year-round habitats which add another living space to the home.
Retractable louvre systems provide an optional roof for protection from the elements; gas heating and fire pits create practical ambience, and outdoor kitchens go beyond a simple BBQ to include fridges, pizza ovens and benchtops.
Outdoor furniture constructed in durable materials and fabrics creates lounge-worthy spaces, which can even be finished with outdoor rugs and outdoor televisions.
Tips for taking your deck to the next level
IN AND OUT:
The comforts of lounge and dining areas are no longer confined indoors. Many brands create stylish furniture and appliances especially for outdoor living; built to withstand the elements, without compromising your aesthetic.
ENTERTAINMENT PLUS:
Electronics are also being designed to keep up to speed with outdoor living. Especially designed outdoor televisions and sounds systems ensure you can listen to music or watch that unmissable sports match unhindered by the elements.
IN THE KITCHEN:
Full-spec outdoor kitchens are growing in popularity, as consumers want to take both the dinner party and the prep outdoors. Multi-functional barbecues capable of creating a full size feast come in contemporary designs, as do pizza ovens and outdoor fridges.
---