---
I love the Mini for a load of reasons but when the Mini Electric three door hatch turned up as my last review for 2020, I wondered how the electric performance would compare against the standard Mini.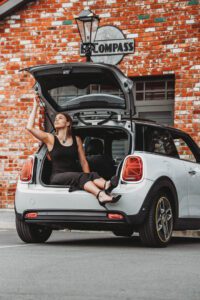 An iconic brand loved with a passion by their owners, the stoic love of Britain is emblazoned almost everywhere you look with Mini. On the Mini electric it's the rear taillights, but on several I've seen, the whole roof is the good ol' Union Jack.
The difference permeates the interior also, those round shape finishings even go to the door handles which confused more than one passenger I took for a drive; is it a door opener or a heating vent?
There are cool sunroof controls and a HiFi Harmon Kardon system that rocks your favourite drive tunes. But what about that all important drive?
It has three drive modes; sport, normal and green mode. Sport is just a whole lot of vroom, winding down to green mode which is the most economic use of the battery life.
I quite liked this mode as I used it as a form of braking for corners and tight turns while at the same time replenishing the battery.
$59,900 plus ORC makes this a remarkably interesting option for anyone wanting an electric vehicle with bling.
You really can bespoke it to make it your own. And that is what I noticed a lot while driving – every Mini I saw was different.
Just the way its owner wanted it. How much fun is that? Which is exactly what this car was for me: Fun to drive, fun to take people out in, fun to look at.
Selena Andreassend at Mini on Moorhouse Avenue walked me round the car to show me a few features.
What was really cute, was the wheel rims are shaped like a three-point plug. So is the charging port cover – and I'm very happy to inform you it charges through a standard garage plug overnight.
It has a 233km range which gives you plenty of opportunity to recharge during the day and there's no stress with, "Uh oh! I'm low on charge!" like I've had on other electric vehicles.
Series one is already sold out and series two sounds like it's going to be just as popular.
The electric wave is sweeping the industry and what a wonderful addition to the Mini fleet. Zero to 100 in 7.3 (it felt much faster than that but who am I to argue), 135kW and 270Nm.
Overall Mini hasn't sacrificed anything on its conversion to electric, if anything it's better than it was before. I was worried about losing what Mini is as a brand. I shouldn't have been. This is the best Mini ever!
---