---
Meet Shota and Tomoko, a young Japanese couple who both live and breathe all things Honda.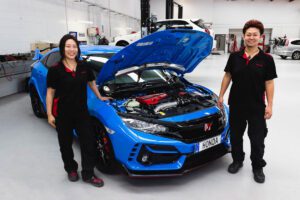 Both Shota and Tomoko have become familiar faces in the service department of Honda Cars Christchurch, though their experience with the Honda brand runs much deeper.
"I graduated from the Honda Technical College four years ago and was given the chance to do a Honda International Internship," says Tomoko.
"I had the choice of Auckland or Christchurch but I chose Christchurch. The people here are so kind and there is far less traffic," she laughs.
Shota met Tomoko while working at Honda Cars Saitama, before he came to work at Honda Cars Christchurch.
"After graduating from Honda's Technical College, I joined a Honda dealership in Saitama, Japan as a mechanic. I spent five years there before I joined Tomoko in Christchurch," says Shota.
"It was down to her that I got the job working with her at Honda Cars Christchurch," he says.
As technicians, Tomoko and Shota cater for all Hondas past and present.
"We do servicing, diagnostics and repairs on every kind of Honda," says Tomoko. Shota and Tomoko also have a huge passion for the Honda brand, with each owning at one-point, identical Civic Type Rs.
Expect to see both Shota and Tomoko working hard on your Honda for the foreseeable future.
"We love working at Honda. The atmosphere is great and we love the team," says Tomoko. With Tomoko and Shota on hand, why take your Honda anywhere else?
---