---
A greener, greater Christchurch is what Mike Davidson stands for. At 43, the independent Papanui Ward Councillor appreciates Generation X in the political arena. "We understand the older generations, but also appreciate the needs and aspirations of younger people – such as mental health and action on climate change.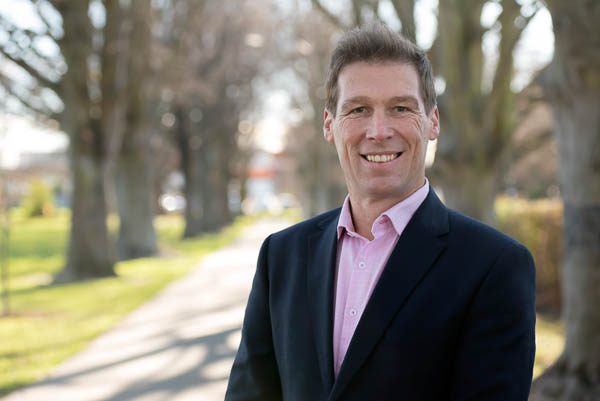 "People talk about the 'boomers' or 'millennials', but forget about Generation X. Political leaders like Jacinda Ardern, Simon Bridges and James Shaw are from Gen X and are making a difference."
Mike has plenty of political DNA. His grandfather marginally missed out in the polls; the same fate befalling his dad. The third-time-lucky-member of the Davidson family would love to retain his role as councillor. He even moved house with his wife Fiona and pets Jess and Mr T when St Albans' electorate boundaries changed, to remain in the ward he represents.
He believes Christchurch is heading in the right direction, and now children can cycle safely to school. He's behind a better transport infrastructure to encourage walking and public transport, and advocates for rail and chlorine-free water.
Last year he pushed his physical boundaries in the Coast to Coast, Le Race, and 42km Christchurch Marathon. Mike now eats less dairy and meat and more local organic produce for a healthier body and environment.
He owns an electric car, but mainly bikes everywhere. "It's great to get out, clear your mind, and get mentally and physically fit.
"We have a great city that puts people and the environment front and centre. The power is with the people to create communities all generations can enjoy."
---