---
While there are cracks appearing in our celebrated kiwi lifestyle of late, there needn't be in your kitchen joinery. Local heroes MF Turnbull are again working their magic to return your surfaces to a brand-new finish, bringing you a great deal of pleasure and saving waste to landfill.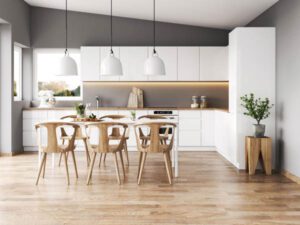 Co-owner Monique Turnbull explains, "For around the last 15 years, some kitchen joinery has been created using a plastic wrap finish, which owners sometimes assumed was a paint finish.
"People are finding that the plastic wrap is cracking – lifting from the base and breaking away. The great news is that we have a technique to remove the plastic and put a completely new surface on the base which is generally still in perfect condition."
Monique says they are resurfacing a kitchen a week at the moment.
If this is happening in your kitchen and you'd like to put it right, the process is simple. A quick call to MF Turnbull will see Steve come out and have a look and provide you with a quote.
If you prefer, you can simply email in some photos and receive an estimate before you consider a quote.
"We are seeing this effect at all kitchen joinery price points, and you'll usually see it go at the edges first or inside the panel on panelled doors," says Monique.
"You might see it in just two or three areas to start with. Some people choose to get a colour match in just those areas, but as the rest of it eventually goes most opt to get all of the joinery resurfaced with a two-pack urethane paint finish."
Refreshing and renewing your home doesn't end at the kitchen. Rejuvenate bedroom and dining furniture, doors, wardrobe doors and more by spray painting.
MF Turnbull can also do French polishing of antiques, and the modern equivalent – staining and clears in polyurethane.
"I really like the idea that it's an environmentally friendly way to refresh your house, our approach means reuse of the kitchen or piece of furniture, rather than throwing it out and buying new," says Monique.
"A client will bring in an unusual piece, it might have lovely proportions and be beautifully made but the appearance no longer suits.
"Refinished in a bright colour it can be a real showstopper, or it could go out the door and start a whole new life with a shabby chic-style distressed finish."
Working with interior designers on a special or much-loved piece that needs to fit a new scheme is a speciality. Upholstered items with timber parts can be resurfaced before being taken to the client's upholsterer for recovering.
Unusual items which pose a challenge are especially welcome – as the team at MF Turnbull & Kitchen Renewal thrive on turning visions into reality.
Such visions are achieved through consultation with clients, and showcasing samples and all the options available.
---