The Kate Sheppard Memorial Fund works to celebrate greater Christchurch's proud tradition of female leadership. Established by The Christchurch Foundation, the fund honours the incredible women making positive change in our community. Normally three grants are distributed each year, but due to the generosity of a local family-run Christchurch business, Evotek Technologies, this year they were able to award a fourth grant. Metropol gets to know the 2021 winners.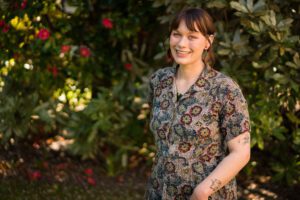 Emily Cormack
Regenerate, Cultivate Christchurch
Emily Cormack is the intern and community coordinator at Cultivate Christchurch, and has a background in working with young people in mental health areas. She is passionate about supporting and helping youth explore their strengths and find their purpose. Regenerate is a programme run by Cultivate Christchurch that supports families to grow their kai. Cultivate Christchurch combines urban farming with youth development and community engagement, and provides employment and skills to youth. Emily's work with Regenerate is making a true difference for young people in Ōtautahi.
"Though it might sound strange, growing kai can totally do wonders for our mental health! Not only do we get the benefits of fresh produce and sunshine (vitamin D), but we also get a sense of connection to whenua and a reminder that we are all part of the ecology that exists around us. It's great that with the help of the Kate Sheppard Memorial Fund, Regenerate can support communities to access urban gardening spaces and their positive impact on wellbeing."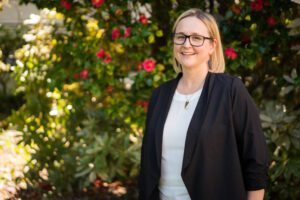 Heather Milne
Christchurch Aunties
Heather Milne is the founder and manager of The Christchurch Aunties. The Christchurch Aunties provide practical donations for women and children who have experienced family violence or vulnerability and is run mostly on volunteer power. The growing community now has a network of over 4800 people donating money, goods and their time. Heather has a background in marketing and communications in the not-for-profit and community sectors. When she's not on Christchurch Aunties duty, she is creating a similar programme for tāne at He Waka Tapu.
"The acknowledgement of my work by the Christchurch Foundation means a lot to me as an individual and to my whanau. I get stuck in the day-to-day mahi of supporting others. This award has caused me to take a step back and look at my achievements with pride and made me think about how else I can use my skills and energy to make a positive impact on my community."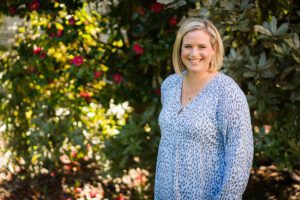 Joy Reid
One Mother to Another
One Mother to Another supports mums and carers in hospital who are going through a difficult time. The organisation provides gift bags to parents and carers in the Children's Acute Assessment Unit (CAAU) and the Neonatal Intensive Care Unit (NICU ward) at Christchurch Hospital, as well as the Neonatal Units in Nelson and Southland hospitals, proving 170 gift bags a month to those four wards. Joy Reid joined early on and now runs the initiative, and has been critical in the amazing growth and work they have achieved.
"It's such an honour to be recognised with three other incredible Christchurch wahine, especially in the name of such an iconic and inspiring New Zealander. It is a privilege to serve our community and to be able to help parents and carers (primarily mothers) in hospital with their children. I'm blown away to be acknowledged for our mahi, and the funds will go a long way in ensuring we can continue to provide support during such a difficult time. Thank you so much to the Christchurch Foundation for highlighting our mahi."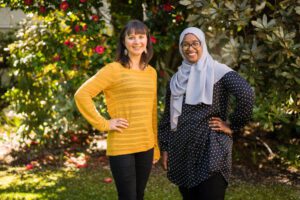 Lois Hill and Romana Ibrahim
Bike Bridge
Bike Bridge works with refugee and migrant women, teaching them to ride bikes, as well as road rules and bike safety. This supportive community helps women form strong connections, while also gaining the tools and skills to a free and independent means of transport. It also creates a safe space to practise English, build fitness and gain confidence in the community.
"We are excited to be recognised by The Christchurch Foundation as a worthy recipient of a Kate Sheppard Memorial Fund grant. This will enable us to further extend our programme at Bike Bridge and get more women equipped and confident to ride a bike. The humble bike has long been an important tool in connecting and empowering women; during the days of the suffrage movement, it was used to help collect signatures for the 1893 petition. Today we are using it as a means to connect with women in our migrant and former refugee community and to empower them to ride. This facilitates free and independent transport across the city, for work, study and fun, as well as the building of friendships and community."
The Christchurch Foundation thanks The George Hotel for the photo location, Craig and Hannah at Lightchasers for the beautiful photography, and The Canterbury Club for the venue for the High Tea Awards function.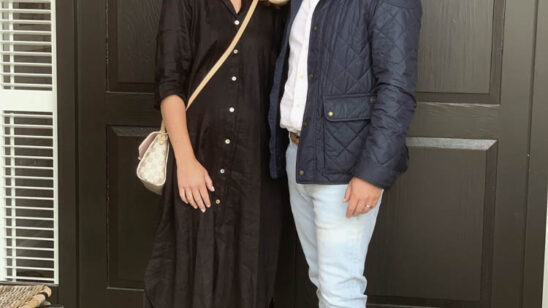 Previous Post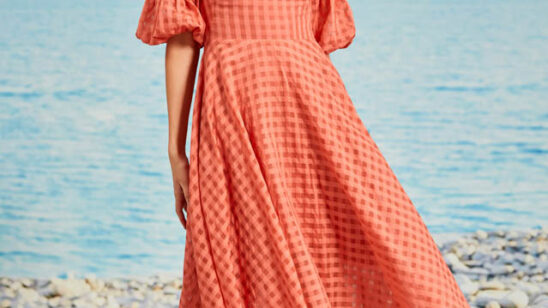 Next Post