---
It's always cool to keep clean and soap is soaring in popularity again, as a low-packaging, plastic-free option. We've pulled together our top tips for getting sudsy.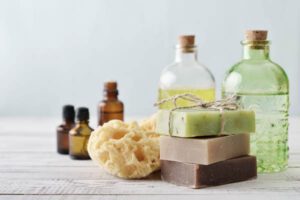 I'm melting! Don't let your soap follow in the footsteps of the Wicked Witch of the West and melt away from a splash of water! A slatted soap dish is a handy way to allow the soap to dry.
High = dry: When it comes to soap, the higher the dryer. Keep the soap bar up high and away from the direct shower stream.
Piece by piece: cut your bar of soap into pieces, a smaller surface area means less soap touches the water. Therefore there'll be less waste.
Love the loafer: Your hands aren't the best option to create lather, so you'll be rubbing it for longer to get those soapy suds. A washcloth or loafer will get you nice and soapy much more efficiently.
---