---
Intrinsic elegance characterises the twin town houses at 18 and 20 Fendalton Road, designed by Jorgen Andersen at Arthouse Architects. "The design is classically Christchurch, a strong gable form that achieves an aesthetic that places the houses at home in the city," Jorgen says.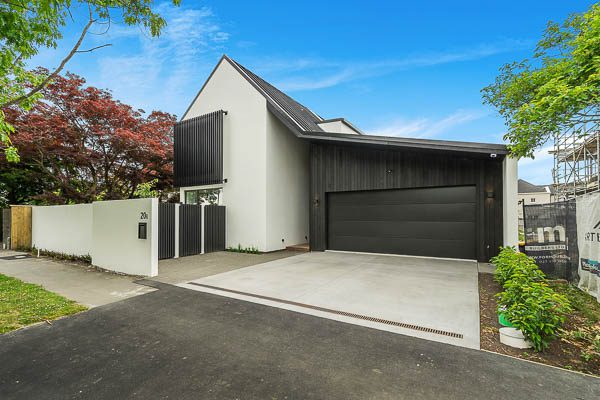 "We then softened the outline by using three different pitches in the gables which lends a draping effect over the garage pavilion. The colour palette chosen is a traditionally crisp Christchurch black and white."
With a 'lock and leave' concept in mind, the two houses, which are not identical but similar, are low maintenance in Integra Rockcote and 'tray' roofing.
Vertical dark stained cedar is used low to be easily accessible for maintenance and louvres add a depth to the façade.
"We've chosen great hardwearing materials but broken the mass, playing with the terrace house idea – they have wonderful street presence as a pair," Jorgen says.
The principle of functionality was exercised throughout: high ceilings and light oak floors plus a minimised need for corridors ensure there is as much space as possible in a modest footprint. Original trees on the berm in front add ambience both looking in and looking out, "And they read differently through the seasons".
"This project has been particularly relationship-based and collaborative which is our preferred way of working.
We find a team approach brings the best success," Jorgen says.
"We work frequently with Form Builders. We find they are always looking ahead, are solution-focused and are great at addressing small issues, which ensures they never become big issues."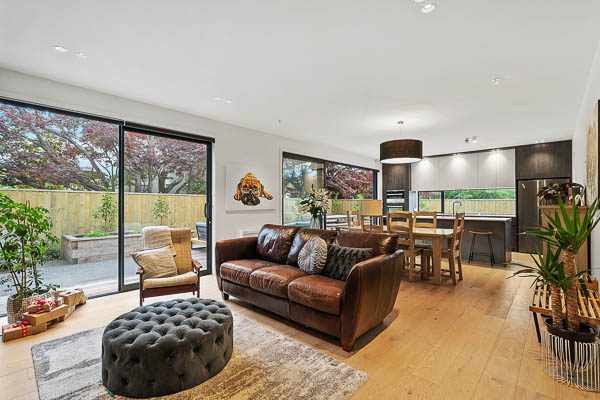 Form Builders has been working in Christchurch since 2008. "We really pride ourselves on the strong bonds that we have within our Christchurch community, including subcontractors like Design Windows, employees, local sports clubs and professionals like Arthouse Architects," Director Matt Stevenson says.
Collaboration is key to Form Builders also.
The company believes that the client receives a higher quality and more functional home when the architect, builder and client work in unison from the beginning.
"The two homes have been seamless to build – working directly with the developers and architect from the beginning meant they have all been on the same page and worked together to create a great finished product," Matt says.
"Form Builders are proud to have been able to build two high end town houses to an exceptional quality within two years and believe this is due to great processes and collaboration from the beginning. With Design Windows' exceptionally high-quality products, along with such high level of customer service, working alongside them is a simple task. Design Windows are a core part of the Form Builders family and we cannot wait to continue to grow with them."
The windows in the homes are all by Design Windows. "They are skilled and professional; we work with them all over the country and there is a really nice continuity to that," Jorgen says.
"Again, it is a collaborative process that we like and they are a real go-to for bespoke projects."
The Design Windows team is delighted to have worked on the houses; the level of detailing provided by Arthouse means that little further discussion was required.
Design Windows has been working with Form Builders for the past seven years, so each house could be run by a different foreman, with no impact at all.
Form Builders works with its subtrades and their families to nurture relationships, making Form a tight-knit team. The goal is to work together to exceed clients' expectations.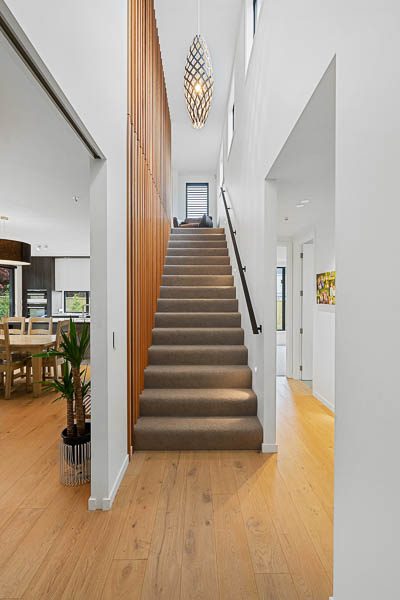 ---