---
A new Christchurch showroom is not just displaying internationally recognised kitchen interior design – its architecturally-designed building is noteworthy too.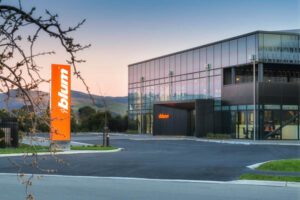 Blum has opened its innovative new South Island showroom, office, trade training, warehouse and distribution hub in Wigram, designed by Warren & Mahoney Architects.
The kitchen hardware specialists' architectural property is purpose built, focusing on sustainability, wellness and employee wellbeing, says Warren & Mahoney Architects Christchurch Senior Associate, Simon Laurie.
This meant incorporating natural light, outdoor time out areas, acoustic design for comfortable noise levels, and materials to complement the natural local environment.
"Architecturally, the design expresses a streamlined, finely tuned and engineered outcome closely aligned with the precision of products the building will deliver," he says.
A pitched frontage design was used to break up the scale of the warehouse for a more urban appearance.
"The showroom is a splendid double height light filled space that visually connects with the outside and features a cantilevered stair clad in blue steel."
The key features are geothermal heating, natural ventilation systems, solar thermal for hot water generation, water recycling system and charging station for electric cars.
Blum New Zealand Managing Director Michael Hawkins says the design aligns with Blum's own business philosophies.
"The architectural design matches our heirloom, but we also want to be relevant in the current business climate, supporting local businesses by hosting events, industry meetings, seminars and training workshops for architects, designers and cabinet makers."
Inside, the showroom presents moving ideas and concepts for innovative kitchen and cabinetry solutions, allowing customers to experience a full-scale kitchen test drive.
The Austrian manufacturer wants to show its South Island customers how creative interior design can be when implemented with high-quality fittings in kitchens, bathrooms and living areas of all sizes.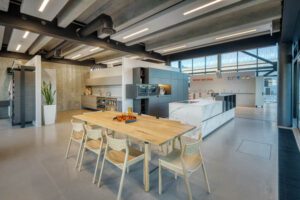 Visit the Blum showroom at 16 Avenger Crescent, Wigram.
---