---
Synonymous with innovation, Blum NZ has done it again with its Space Step plinth solution and Pull-Out Shelf Lock systems. Of course, it wouldn't be Blum without the sleek design and elegant operating systems which are inherent and guarantee the brand its aspirational status.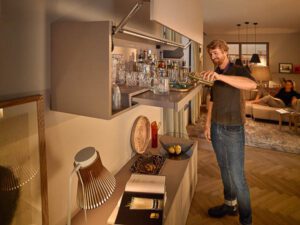 The Space Step is beautiful in its simplicity; a chic answer to the issue of shelves out of reach, or the little ones wishing to help in the kitchen, plus it creates extra storage space in the toe kick of base units. It opens with ultimate ease.
You can choose from either the electrical support system, or a push-to-open mechanical system, both with effortless and soft closing. The step is safely locked into place by weight of just eight kilograms.
The Shelf Lock system works with Movento runners to hold pull-out shelves safely and conveniently in place when the shelves are fully extended.
Pull-Out shelf lock has a push-to-open mechanical option for handle-less, or standard soft closing.
The lock can be released with just one hand. It's a small convenience that punches way beyond its weight by making life easier and so making every day better.
Find the Space Step and the Pull-Out Shelf Shelf Lock systems on the website below.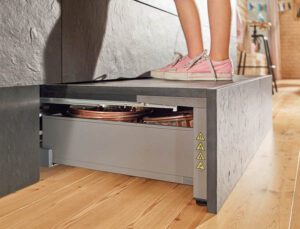 ---