---
While having constantly-listening smart devices at home may instil a certain sense of paranoia in some, there are many benefits to be had from such technology for those prepared to embrace it.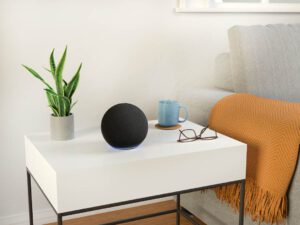 With two third generation Echoes, an Echo Dot and an Echo Auto in our household, my family have more than embraced the convenience of the Alexa AI.
From checking the weather forecast, setting cooking timers and wake-up alarms to playing music, dimming lights, telling jokes, reading audio books, dishing out endless knowledge to monitoring home security and much more, Alexa brings a little piece of what was once the realm of science fiction into our daily lives.
With the release of the Gen 4 Echo models just in time for Christmas, there has never been a better, or more affordable time to take advantage of how smart devices can enhance your lifestyle.
The new Echoes present a stark difference in styling to the previous generation, which may not appeal to everyone.
Gone are the cylindrical and hockey-puck aesthetics of the Gen 3 Echo and Echo Dot respectively, for a more prominent spherical style that is sure to quickly capture attention in any room.
Physical appearance aside, the new and older models are essentially identical in functionality, although the ball shape does promote slightly better sound from the speaker.
With the Gen 3 models now going at a cheaper price, I'd be rushing to snap one up before they sell out, but if the shape of the new Echo models holds some appeal, then they're still excellent value for money.
---