---
The constructions exude strength, and built from classic pegged timber framing they are made to last. From his converted shearing shed workshop on a picturesque farm in North Canterbury, Nigel Wilson creates large-scale, elegant and beautiful wooden structures that would elevate any outdoor environment.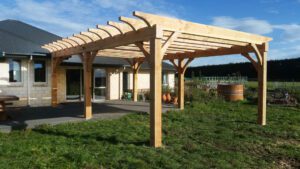 "I learned the craft while living in Canada," says Nigel.
"Traditional joinery of this type using carefully fitted and joined timbers with joints secured by large wooden pegs is well known in North America."
Nigel can build everything from cabins and outdoor furniture to decorative trusses and feature gates. He particularly enjoys making structures that frame outdoor living.
"Pergolas, gazebos and porticos are my speciality now. They require engineering expertise and building experience both of which I gained from my previous work.
"After talking with clients about what they need I come up with a concept and then build the structure. I cut all the pieces required here in my workshop and assemble them on site. It is remarkable how quickly they can be erected."
All the timber Nigel uses is grown and milled in North Canterbury – redwood, Japanese larch, macrocarpa and Douglas fir – apart from the wooden pegs which are shaped from imported oak.
"I am very fortunate that there are three excellent mills nearby." Contact Nigel on 021 249 9729 or at redlionworkshop@gmail.com.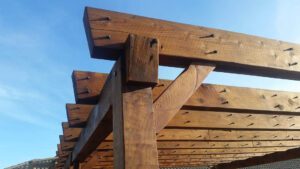 ---