---
There are some exciting new developments in the works near Canterbury's northern border, so we caught up with Hanmer Springs Thermal Pools and Spa Executive General Manager Graeme Abbot about why this alpine oasis is the hottest place to head this year.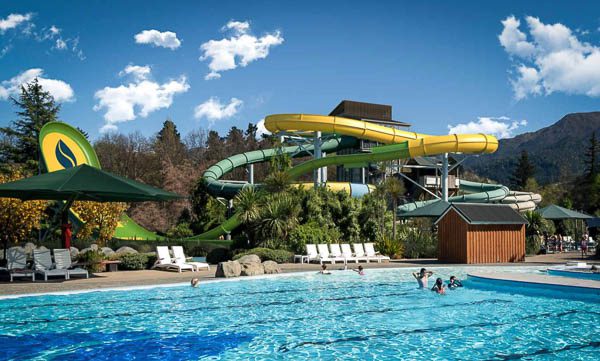 Can you tell us about the exciting new developments happening at the hot pools?
Sure! It's all go in New Zealand's alpine spa village. We've begun construction on a new $4.5 million development that will add five new thermal pools and an aquatic thrill ride to the complex. These will be open in time for summer.
First open will be the new pools. These are set among river boulder terraces and native gardens. Bathers will soak in our famous mineral-filled waters with the sounds of waterfalls and nature around them. We're also really excited about our new 13.5m high aquatic thrill slide. It will open in November and will be the only ride like it in New Zealand.
---
What sustainability measures have been incorporated into the new development?
The new pools are designed to be super water efficient, with no holding tanks. We've also had to pioneer a new construction technique that saw them built on piles (instead of being dug into the ground) to protect tree roots below – this was a big process with 280 piles and added cost to the project, but was worth it.
Readers may also remember that last year we became the first in New Zealand to have a micro-turbine generator that uses waste methane (that comes out of the ground with our thermal water) to generate electricity. It was an exciting project that powers around 10 percent of the complex's electricity. Now we're capturing the heat the generator produces and using that to reheat our thermal water – it's a pretty cool innovation that will provide half of the energy for the new developments.
---
You've got a slide naming competition running until 31 July, what sort of inspiration are you looking for?
Something awesome! The slide will be the only one of its kind in New Zealand and, given the impressive nature of it, this new addition needs an equally impressive name. We want something bold, fun and energising – because we promise you, this one is going to get the blood pumping through your veins! We have had more than one person suggest 'Dave' as a name but we're sorry, that won't do!
---
Why is this time of year a great time for people to head over your way?
Winter brings with it the possibility of snow, making it our favourite time of the year at the pools. If you've ever been to the pools during a snowfall, you'll know why! It really is magical soaking in the hot waters, watching snow gently fall around you and melting as it hits the thermal waters. It brings with it a real sense of tranquillity and stillness, which is great for the mind and soul.
---
What are your recommendations for things to do and see over your way for people from Christchurch heading over for the day or the weekend?
The next time you come our way, take your time! Stay overnight instead of just making a daytrip. That will give you time to take a walk up Conical Hill, or along the Waterfall Track, before peddling through the village on the Rockets. Or jump on a horse or mountain bike to see another side to Hanmer Springs. Try out your mini golf skills and dine in at any one of the local spots.
We have a new Forest Walk featuring huge sculptures in the forest (look out for the BFG) which the kids will love or you can jump in the car and head 'over the back' and discover some spots locals love (just ask a villager which way to go!).
---
What other exciting things do you have in store over the next 12 months?
We have something really cool planned for younger kids – stay tuned!
---