---
While we pack away our winter clothes and pull those lighter, brighter summer garments to the front – it's important our skincare is also kept up to season. After a winter and early spring hibernating under sweaters and pants, no pre-summer skincare tip is as crucial as exfoliation. Here's our tips for prepping your skin for the warmer, sunnier months ahead.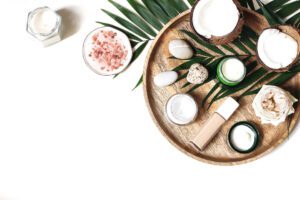 EXFOLIATION STATION
Exfoliating is vital in the lead-up, as well as to maintain, throughout the sunniest season. Pre-season, it's an often-cathartic exercise to remove any scaly winter build-up. And once the sun arrives, it reduces clogging of your skin as humidity increases, you're regularly breaking a sweat, and continuous coats of SPF are being applied (at least we would hope!)
KNOW YOUR TOOLS
Physical exfoliation is popular on the body, using delicate granules or brushes to remove the surface layer of dead skin. When it comes to the more delicate face, chemical exfoliation dissolves dead skin cells, delving slightly deeper to assist with new cell turnover. Enzyme exfoliators are also increasingly popular, as a more natural option relying on bio-active ingredients derived from fruits.
SAFE AND SMOOTH
Whichever exfoliator works best for you, it's important your skin is also being protected. Moisturisers act as a barrier for your skin and prevent dehydration. Even better, dual-purpose moisturisers include SPF and if anything, SPF is the most important. New-age facial sunscreens, like those by Ultra Violette, Mecca and Emma Lewisham, combine hydrating, lightweight properties to nourish and protect.
EXFOLIATION TIPS:
Use an exfoliating mitt in the shower for your body
Craft a DIY body scrub with coffee grounds, coconut oil and vanilla extract
Try a gentle AHA, BHA or enzyme exfoliant for your face and decolletage – always patch test before use
Sunscreen is a daily non-negotiable
Consult a dermatologist if you have sensitive or problem skin
---