---
James Daniels has the knack for a chat – a gift those radio guys have for a great conversation. On and off the air since '78, he was ahead of his time – as even back then he was upfront and telling it like it is.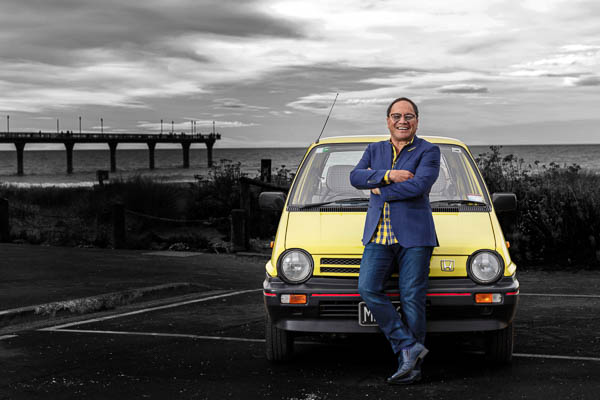 The born and bred East Christchurch lad currently lives in Parklands and has a strong sense of belonging to the land. Because of this deep aroha for his community, this simultaneously serious and funny Kiwi is running as an independent for the Coastal Ward in October's local elections. His last stint on radio was with Hillary Muir on The Breeze, from 2014 to 2018, before leaving to take on his governance roles, including the board of directors for Ngāi Tahu Property.
James has always had a political bent. Some might remember back in '89 when he and co-host Ken Ellis held the 'James and Ken for Mayor' campaign. "We bought an MK2 Daimler, added a female chauffeur and named her Mayoral Streep," he chuckles."We would ring up the council on air and see how long it took them to answer the phone."
Naturally Vicki Buck was elected that year. They went to North Brighton School together in the '70s. Vicki was girl dux and James, boy dux. Whānau means the world to him. "I was a child bride," he says of his wedding to Sue down in New Brighton as a 17-year-old. "It was nine happy years. My second wife Nikki ended up running off with our builder – but now we're the best of friends, she's like a sister. Nikki actually came up with the name for More FM in 1991 and was incredibly supportive."
He left More FM in '96 when public life and singledom "became too crazy," and did a Commerce degree majoring in Property Studies. But life changed when he met his now wife of 15 years Dianne in 2003, just before he was declared bankrupt after investing in Cave Rock Bar in Sumner. "Humans, alcohol and cash are not a good mix!" he muses.
"It was love at first sight when I met Dianne while I was singing on a Monday night down at The Bard on Avon. Dianne is literally and honestly everything I have ever wanted in a woman – funny, smart, sensible and sexy. We're best friends. She's the love of my life."
James then balanced life commuting between Auckland radio projects, which included starting the country's first hip-hop station, and continuing a two-decade tenure with Ngāi Tahu Tribal Council in Christchurch. Dianne's two children, Tayla and Keely, asked him to adopt them on Father's Day two years ago. James has two children to Sue, Natasha Guttenbeil and multi-media broadcaster Stacey Morrison, and Jesse is Nikki's son.
The family man says he's learnt a lot during his campaign for councillor. "We all know the issues – there's been a lot of talking and now it will be 'the doing'. I believe the key is fostering real relationships with councillors, council staff and entities. While I will advocate strongly for the Coastal Ward, it's important that everyone cooperates and works for the city as a whole.
"I love this area," he says of coastal Christchurch. "I love what we see out the window, I love the beach, the forest. I want to help breathe the life back into this beautiful place again. This will always be home." James can be spotted milling around Brighton market on Saturdays, relishing random chats with the locals – and listening to their stories. "I'm very, very curious by nature – so this is my gig."
---