---
It's a comfort food time of year, but that doesn't mean you need to eschew health. Here's a simple winter soup bursting with flavour – and veges!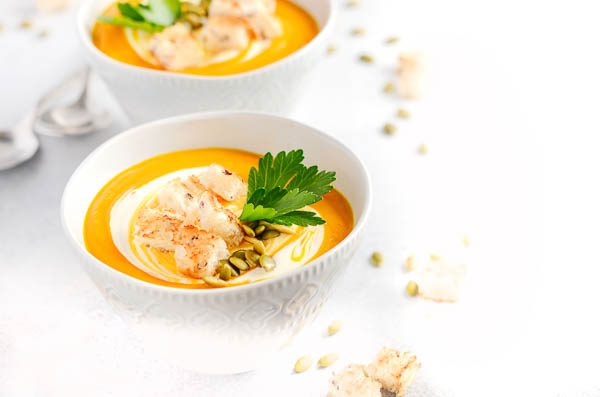 INGREDIENTS 
For the soup
2 tablespoons olive oil
500g pumpkin, diced
1 medium potato, peeled and diced
1 head of corn
1 medium tomato, chopped
1 onion, diced
1 leek, diced
1 bay leaf
4 cups water
1/4 cup coriander or parsley
Salt and pepper to taste
For the garlic croutons
2 cups diced bread
1 clove of garlic, chopped
2 tablespoons butter
2 tablespoons olive oil
1 teaspoon salt
A pinch of black pepper
A pinch of thyme
INSTRUCTIONS  
Soup
1. Coat the bottom of a large saucepan with the oil and add onions and the bay leaf. Cook on low heat.
2. When the onions are golden in colour, add the diced potatoes, leek and pumpkin. Turn the stove to medium and stir. Add the corn kernels and chopped tomatoes.
3. Cover the pot and cook the vegetables for 20 minutes. Keep an eye on the pot to ensure vegetables don't scorch. When they are soft, add the water and stir. Cook for half an hour on low heat.
4. Season with salt and pepper to taste. Add the chopped cilantro or parsley and cook for another 5 minutes.
5. Serve as is, or blend to choice. Drizzle with cream and sprinkle with pumpkin seeds.
Croutons
1. In a frying pan, melt the butter together with the olive oil. Add the garlic and allow it to infuse in the butter/oil mixture, over the lowest possible heat for 15 minutes, ensuring the garlic doesn't burn.
2. Add the salt and pepper and thyme, then stir.
3. Dribble the garlic butter through the diced bread, mixing gently. Bake the coated croutons in a hot oven for 20 minutes, turning them over twice.
---