---
Their individual skills and experience are very impressive. Harcourts Gold sales consultant Milena Bartlett has brought to her real estate role a wealth of experience in sales to the most discerning of customers, while her colleague Andrew Swift has served real estate with passion and drive for more than 20 years. Put these two powerhouses together and you have created a really formidable team.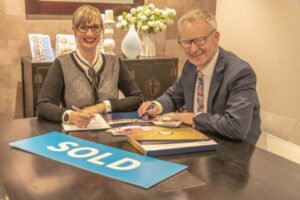 "We decided to form a partnership because we really are like-minded in the way we think and act. The client gets double the attention and double the service. The primary focus for both of us is on meeting our customers' needs. We know that every vendor's or buyer's circumstances will be different and so we work with them to achieve the best result possible."
Milena and Andrew say that while they bring complementary strengths and abilities to the partnership their combined experience, skill, knowledge and accessibility are what sets them apart from most other sales consultants.
They love a challenge and will persevere until they get a result or find a solution to a problem.
Their passion for outstanding customer service has earned Andrew and Milena an enviable reputation for success in the industry. In the last financial year they were recognised amongst the top 20 consultants for Harcourts Gold.
"Of course accolades are nice to receive, but it's helping people that's the greatest accolade for us. Our clients appreciate our promptness of service and our availability and that is not going to change."
---