---
Heading Auckland University's Bioluminescent Superbugs Lab, Dr Siouxsie Wiles has formulated a career which combines her twin loves of bioluminescence and infectious diseases. In short, Siouxsie and her team make bacteria that glow in the dark… not your everyday job!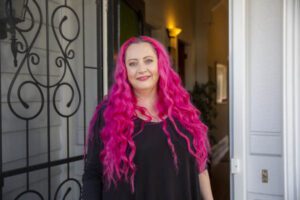 The cool, calm microbiologist became an unconventional expert delivering vital information to a panicked public right from the outset of COVID-19.
Communicating with the public goes against the very grain of academia, a world which Siouxsie says seems to mostly value internal communication amongst peers.
"That's how we get promoted, how we get grants, how academia survives, but actually that's not where the research finishes," Siouxsie explains.
"I'm a firm believer that research needs to be communicated much more widely."
Siouxsie recalls demanding an exemption from dissecting a rat in a high school biology class, which is quite ironic, given her career.
"Of all the people I went to school with, I was the one that ended up doing animal research!" she states.
When she won an award for research relating to the use of animals in science early in her career, she didn't want her name to be made public. "I was fearful of how people would respond. It's an emotionally difficult subject, but that's why I'm so driven to do things more humanely."
The organisation responsible for the award sat her down and helped her understand that by not going public, she was in fact contributing to public misunderstanding of science.
"They explained to me that this was an important part of the conversation about medical research that was missing," a conversation which ended up becoming a core theme of her later career.
Siouxsie began working with artists and illustrators to make science accessible and by the outbreak of COVID-19 she had 15 years of experience talking about science to different audiences.
"When COVID-19 happened, having that understanding of what was going on and being able to help people understand what they didn't know was something I had the skill to do."
She immediately got to work with cartoonist Toby Morris and through their combined talents, spent lockdown communicating complicated ideas is a way we could all digest.
"This work has shown me the impact I can have," Siouxsie says. "As a scientist, you always hope you will benefit society in some way.
My work to discover new antibiotics is ongoing and the benefits will take time, but this has shown me that through communication I can have a positive impact.
"At a time when the world needed good information, it's the thing I'm most proud of. It shows those who have been dismissive of the importance of communication that they were wrong."
She's referring to when she sought to upskill in the communication area and was warned that it would ruin her career, coupled with the suggestion from her peers that she wasn't a "real" scientist, but rather just a "science communicator".
But then Siouxsie has never been afraid of a challenge – whether it's challenging people's ideas, stereotypes or even traditions.
She has been outspoken about having more women in science and has even taken on Lego in a TEDx talk on gender-stereotyping within toys produced by the global manufacturer.
"The research is clear, when there are diverse viewpoints and lived experiences, better outcomes are made," she says.|
The career-long criticism which seems to come with female success in a male dominated profession has given her a thick skin; one that was needed upon the outbreak of COVID-19 because, while the pandemic has thrust science – and Siouxsie herself – into the global consciousness, a high profile comes at a high cost.
There have been nasty comments and ongoing harassment, from her vibrant hair to her supposed involvement in a global conspiracy.
When the first cases hit headlines, Siouxsie expressed in an interview that there didn't seem to be much to be overly concerned about yet.
Within weeks the emerging pandemic escalated, along with her concerns.
However, she continues to get sent that January interview from people pointing out how wrong she is.
"That interview was based purely on what we knew at the time," she explains.
"People don't seem to understand that a scientist's views are supposed to change as evidence changes," she says of science which, by its very definition, is the study of the physical and natural world through "observation and experiment".
While she's still catching up after a busy six-months, Siouxsie is hoping to squeeze in a holiday with her daughter and husband this year.
However, she worries about the growing portion of New Zealanders demanding we open up the borders.
"The reality is we're in a very scary position right now because the pandemic is raging overseas and many other countries seem to have given up for various reasons. The more this carries on overseas, the louder the voices here are that say we can't stay isolated forever.
"I'm worried about how this will go so a big part of my focus will be on trying to keep up with what's going on overseas and communicating why we are in such a privileged position.
"I'm not advocating to stay completely cut off, but we do have to be very careful about how we open up."
Gwen Isaac offers a unique insight into Siouxsie's role in a defining moment in New Zealand history, with the documentary maker turning her talented hand to Siouxsie & the Virus; part of a collection of eight Loading Docs short documentaries to be released late-August 2020.
---