---
Another sizable donation from a Christchurch businessman and former politician has put the restoration of the city's ChristChurch Cathedral $4 million closer to its fundraising goal.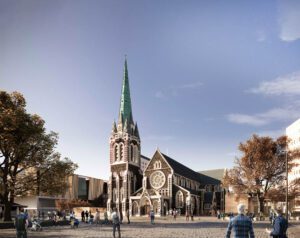 Philip Burdon, a former National Party MP and frequent member of the National Business Review's rich list, made the generous donation on top of $1 million already donated after the 2011 earthquakes which decimated the city central's iconic structure.
A $154 million restoration of the cathedral was announced last year as part of the Cathedral Visitors Centre, which will include a café, landscaped garden and museum and retail stores, as well as a Cathedral Centre providing gathering spaces, offices and amenities.
When announced in October, the restoration's leaders, the ChristChurch Cathedral Reinstatement Trust, said there was a $51.2 million funding shortfall. A fundraising campaign set to be launched in March is seeking to raise $26 million.
Post-earthquakes, Burdon led a campaign with fellow former MP, the late Jim Anderton, to save the cathedral from demolition, and recently told The Press he was confident the necessary funds could be raised.
"The fundraising events over the next few months are going to be the moment of truth for the restoration campaign to proceed on schedule," he told the publication.
Burdon says he is passionate about the success of the project because of his, "very personal belief in the unique historical and heritage significance of the cathedral. It is an utterly irreplaceable part of our heritage."
Work on the cathedral has already begun, with large steel frames installed on the outside of the building as part of a stabilisation phase. This phase is fully funded, will cost about $11.8 million, and take about two years.
Following this, the next phase for the restoration will be strengthening and reinstatement – for which funding will need to be in place by October this year.
Funding for the supporting buildings which will make up the visitors centre will need to be raised by mid-2022, and for the new tower by mid- 2023.
Concept designs (pictured) of the restoration project by Warren and Mahoney in association with international firm Snøhetta and heritage specialists Salmond Reed acknowledge the Anglican Cathedral's rich history, supported by modern buildings which will play a wider role in the city – and square's – offerings.
The renderings show use of glass and timber to complement and contrast with a reinstated stone cathedral.
---