---
An exhibition showcasing the works of artists Gabriel Heimler and Anna Proc is soon to open at McAtamney Gallery in Geraldine.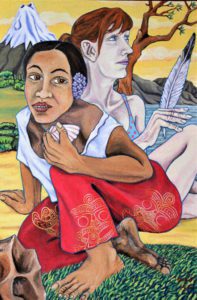 Titled Gauguin in Aotearoa, the exhibition features a series of paintings inspired by a time when French post-impressionist artist, Paul Gauguin had a ten day stopover in Auckland in 1895, en route to Tahiti.
Gauguin visited the Auckland Museum and, discovering the then newly-opened Māori Art wing, immersed himself in studying and making sketches of the artworks on display.
"Gauguin was a world-citizen; he was half-Peruvian and half-French," Proc explains.
"He felt himself to be already cosmopolitan and, although he lived in France for some years, he didn't feel at home there.
Gauguin was searching for a newness, for diversity… he dreamt to find an optimal inspirational place and Tahiti seemed an idyllic destination for his creativity."
Proc says that, like Gauguin, she and Heimler are from Europe and have been searching for a place that is new and diverse yet also rooted in its history.
"Our inspiration is to ask ourselves what would Gauguin paint if he were here in New Zealand now?
Our work also asks can we choose another country and represent it; interpret this new land – our fascination with Māori culture and that underlying female presence?
Gauguin's paintings of women are rather mysterious; our big point of difference is that certainly, we want to celebrate and show the beauty and importance of women, but integral to our work is to make them contemporary – of today's world."
Heimler and Proc have been painting collaboratively for 10 years.
They work in tandem, from large wall murals through to diptychs. Gauguin in Aotearoa poses many questions, such as why alongside the Polynesian women featured in the series, there are also blue-eyed blondes, sports cars and, somewhat surreally, Heimler, Proc and Gauguin chatting in a doorway!
"In sum, our art is a reflection of our quest to gain a deeper understanding of our single and united selves," Proc says, "Our work is not didactic; rather, we raise questions. Our process is as much one of exploration as of discovery."
Find McAtamney Gallery and Design Store at 40a Talbot Street, Geraldine. Phone 027 305 3000 or email carolyn@mcatamneygallery.co.nz.
---