---
Paul Wood was imprisoned long before he set foot in Paremoremo Prison; locked up in a mindset that would plot the map that got him there. "Anyone looking at me in my teenage years might have muttered to themselves that I was heading for prison. They were wrong only in the sense that I was already there," he says.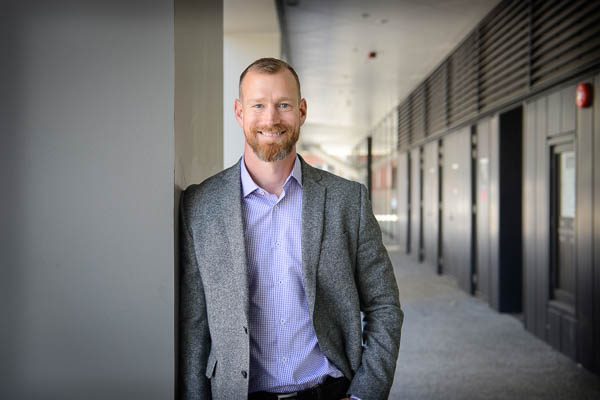 Twenty-four years ago, Paul committed the ultimate crime, but he's spent the intervening years working hard to both understand and harness the demons that set him on the path that would get him here. Paul earnt his place in the prison system, but he also earnt his way out. Along the way he also earnt himself the initials 'Dr' that he can now wear proudly in front of his name.
Paul Wood was the first person in New Zealand to progress through undergraduate studies to attain a bachelor's and master's degree while in prison and was the first person to begin a doctorate while still incarcerated. He wears many more hats than that.
Paul Wood is a Doctor of Psychology, a motivational speaker, leadership and personal development specialist, media personality, loving husband and father. It is perhaps his journey that makes him so good at wearing them; a journey he has captured in How to escape from prison; the remarkable story of how one man defied the odds'.
While the book catalogues his way into prison, his journey through the system and his exit out the other end, perhaps most importantly, it focuses on helping others break out of their own prisons. Because, while Paul was physically incarcerated, he came to realise that most of the people he was inside with – and many on the outside who think they are 'free' – are in fact locked up in mindsets that prevent them from living full, authentic lives.
"They are imprisoned by their beliefs about their limitations, about who they are supposed to be and what they are or aren't supposed to feel," Paul says. "That's as much of a waste of human potential as anything the criminal justice system has to offer."
The reason he's so effective at convincing people that adversity can be the catalyst of growth and that transformational change is achievable? Because he's living proof of just what is possible, no matter the size of the mountain that needs to be conquered. So is there ever a mountain too high the climb?
"I think the potential to change your life is always with you, but it requires you to take ownership and to start taking the steps required to make that change," he says. "You can't reach your potential without support, but taking small steps every day, there's always a path back."
The first of those steps, is taking ownership. It's a crucial step in reparation, recognising that your decision paved the way for your journey, Paul says. It requires "bravery and commitment, but there's no more empowered position you could take in life".
While we like to have a narrative; a 'lightbulb' moment where suddenly we're on the right path and it's smooth sailing here on in, Paul says real change is an incremental process and it's about putting one foot ahead of the other every single day.
"You just need to start taking the right steps with no idea where they will lead you. You don't need to know the destination in order to land somewhere great. I wasn't familiar with the life I've got now; I didn't know what I'm doing now was something you could do; the key thing is going, 'what's a small thing that I can do now?' There are steps backwards, sideways; it's about continuing that momentum with those small steps."
While the take-away of the book is going to look different for everyone, he would like to see it help people to be more accepting of failure, to recognise it as an opportunity. "Failure is a key ingredient of growth," he says. "If you're not experiencing failure occasionally, you're not striving to fulfil your potential; you're playing it safe and not exposing yourself to opportunities and risk.
"Struggle is normal; life is challenging; that's not an indictment against us, that's how we learn and grow. We make the mistake of thinking our job is to be 'good' at things – being a parent, a manager, an employee. If you can re-conceptualise the key deliverable, the key success factor as getting 'better', not being 'good', then you'll realise failure is an opportunity to get there."
If you keep focusing on the end point, it can be so overwhelming that you never get started, he says. "We're all familiar with the quote 'Rome wasn't built in a day', but the full quote is actually 'but they were laying bricks every hour'. It's about focusing on small steps that make big steps over time.
"It's one of the rich ironies of my life's journey that I had to go to prison to learn how to be free," Paul says. "Your freedom is there for the taking, all you need to do is fight for it."
---