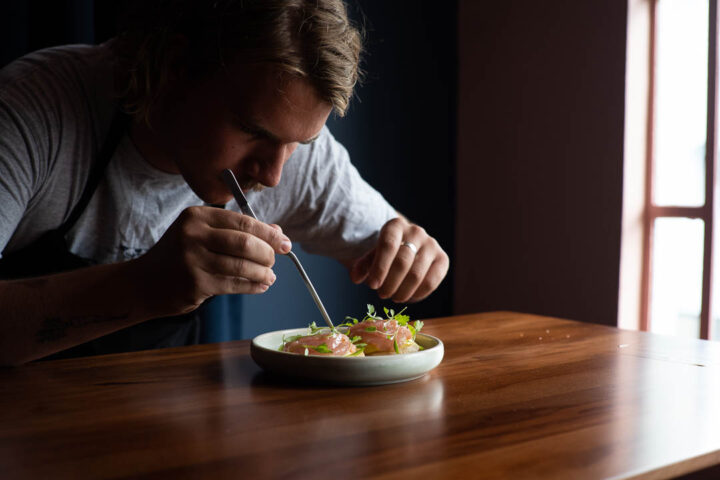 Exceptional, sustainable and fun: Gin Gin
---
Like the vast gin menu which introduces patrons to hundreds of exciting and interesting varieties of the spirit, Gin Gin's cuisine menu serves up diverse and refined cuisine in a way which is approachable for all palates. From its new home on candy-coloured New Regent Street, the local favourite's intriguing and delectable menu compliments its playful and fun interiors, and extensive drink selection.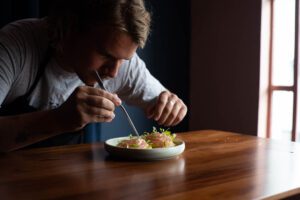 When the popular bar began to outgrow its former Victoria Street home, Luke Dawkins, moved the operation to iconic New Regent Street with his business partner, Brett Giddens, and transformed it into a hospitality hot spot!
Spread across two storeys, marshmallow pink and forest green walls lead from room to plant-filled room. Through each arched doorway lies another seating area; a pink leather booth with a matching fringed light hanging above; low and curvy green velvet benches and pouffes; a marble topped bar with velvet stools, and sunny outdoor picnic tables.
"We want to give an experience and help people make memories," says Luke. "We've tried to create a space where people feel super relaxed and have a nice time with nice food and nice drinks."
And the experimental yet well thought out, seasonal menu certainly reflects this aim. Head chef Jackson Mehlhopt selects ingredients not only for the impact on the plate, but for their impact on the environment.
"We have some amazing produce and local suppliers we work with," he says. "All of the fish we have is Gravity Fishing from Bluff. It is long line or spear-caught to order by the fisherman, Nate, and everything is delivered the next day.
"He catches only what is in season, which guarantees that there is no overfishing but also that the fish is guaranteed to be used."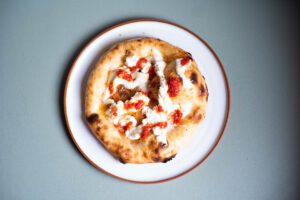 This results in fresh, sustainably caught Albacore tuna, native blackfoot paua, deep-sea scampi appearing on Gin Gin's menu.
"A lot of our food matches with gin," says Luke. "A lot of our gin reflects the ocean, with sea kelp gin from Scotland, and Dancing Sands from Golden Bay uses sea kelp, too."
Jackson uses Black Origin Wagyu, which combines ancient Japanese breeding genetics and techniques with New Zealand's incredible grass, grain, water and air.
"The combination of traditional techniques used to raise the beef and so much care being taken to ensure they get the right nutrition, combined with New Zealand grain and New Zealand pastures, it creates a really unique to New Zealand product that we haven't necessarily seen before," says Jackson.
While the ingredients might sound exotic and intrepid, the dishes are not intimidating.
"The menu is approachable," says Luke. "It's not too out there or gastronomic, we want people to feel like they are trying something new, but we're not pretentious or intimidating about it."
In the kitchen, the carefully selected ingredients are transformed into seasonal dishes using zero waste principles.
"Zero waste means maximising the product and giving the product the most respect we can," says Jackson.
For example, beautiful stocks are created from leftovers likes fish heads and bones, which is in turn used for sauces. Foraged flowers and herbs are used for garnishes, and in-house fermentation makes perfect pickles.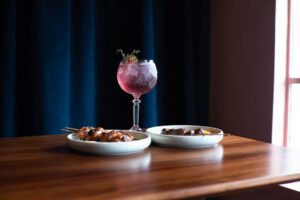 The result? A beautifully unique seasonal menu which, for autumn, features sharing plates and standalone mains like scampi donuts, burrata, fried paua bites, red wine poached octopus, hand stretched pizzas and a sweet Weet-Bix slice.
When it comes to a drink match, options really do seem endless.
Over 120 gins from every corner of the world are complemented by local tap beers and a wine list peppered with the best of North Canterbury drops, as well as those from farther afield, and its own house red, too.
The gin renaissance of recent years means Gin Gin's offerings are popular with a wide demographic, something Luke attributes to what started as a pop up concept in 2018, becoming a now permanent fixture in the city.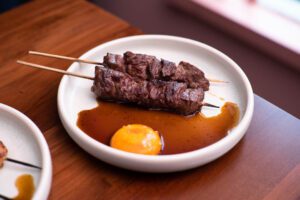 ---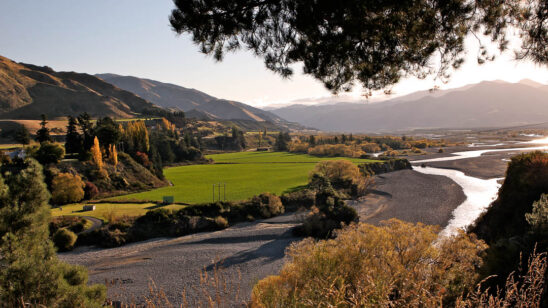 Previous Post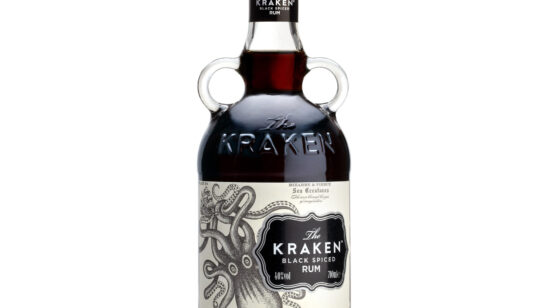 Next Post