---
A new tablet-based health, safety and connection system, designed with the collaboration of Kiwi seniors, has won the financial backing of Qestral Corporation and is now installed in 200-plus independent living homes at Alpine View Retirement Village in Christchurch.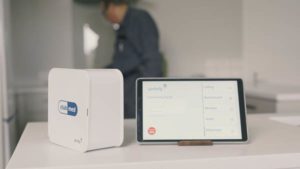 CEO of Spritely, Christopher Dawson, developed the system after his father suffered a medical event at home.
"I thought there had to be a way technology can help Kiwi seniors like Mum and Dad, not just to be safer, but also to be healthier and more connected."
John Ryder, Executive Chairman of Qestral Corporation, describes Spritely as an important innovation in the New Zealand aged-care sector.
"We've invested in Spritely because we believe in its potential as a sector-wide solution to a number of big issues."
Spritely addresses:
Health
• A sensor in the home triggers an alert if there's no movement after 10am (called 'awake and well' monitoring)
Health
• Health vitals measurement and tracking; with wireless blood pressure machine and scales
• Day and time-packed medication dispensary and delivery (called 'club med')
• Medication alert reminders
Connection
• Digital phonebook
• Video calling
• Digital noticeboard
• Events and notifications
• A live weather forecast
Alpine View is the first retirement village in NZ to make this kind of touch screen communication system available in every house and apartment. Serviced houses and apartments also get additional Spritely Care features, including personal health monitoring etc, as outlined on their website.
Spritely is now available for retirement villages, with a 'community version' already in development.
---