Dressed to impress: RESENE
Dark sea greens and pale blues come together in a dressing room you'll never want to leave.
We all dream of a closet to rival Carrie Bradshaw's, and whilst the fashion icon's actual wardrobe (clothes, that is) will probably only remain in our dreams, we can attempt to channel her inner fashionista when it comes to designing and styling our dressing rooms.
Often, it's assumed that dark colours will automatically make spaces feel smaller. This is not always the case, and this dressing room is a great example of that. Having the dark wall on the inside of the dressing room actually helps to make the space feel bigger than it is as the dark earthy grey green of Resene Dark Slate creates depth. When layered behind lighter colours, such as Resene Zumthor on the top half of the front walls, this sense of space is heightened.
The front walls themselves create depth and intrigue with a nod to traditional wainscoting in the harlequin painted pattern in Resene Hermitage and Resene Zumthor. Trims in Resene Sea Fog create a clean contrast and introduce fresh lines to the space – a colour that is echoed in the mirror frame, picture frames and the clothes hanger.
Layers of icy blues and grey greens continue inside the dressing room with the desk in Resene Destiny, the round hat boxes in Resene Dark Slate (bottom), Resene Hermitage (middle) and Resene Zumthor (top) and the square boxes in Resene Hammerhead (bottom) and Resene Zumthor (top).
The best aspect of this room's colour palette is that it's neither feminine nor masculine. Dark and moody but soft and inviting at the same time, it appeals to both parties and will work in any style of home. So, your Mr Big will be just as happy as your inner Carrie Bradshaw.
PAINT
Back wall in Resene Dark Slate, Front walls in Resene Hermitage and Resene Destiny, Pendant light in Resene Zumthor, Desk in Resene Destiny, Trims in Resene Sea Fog
PROPS
Rug, The Ivy House, mirror, Bo Concept, stool, Nood, prints, Endemic World, Grace Popplewell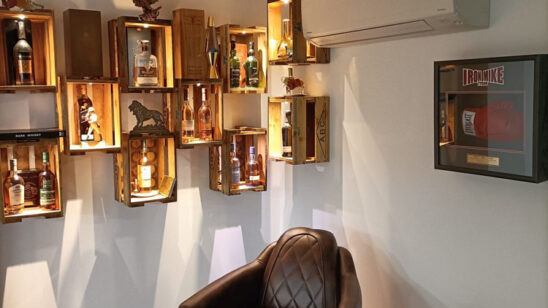 Previous Post