---
The Ronald McDonald House Supper Club is one of the hottest events on the social calendar, but if you missed the Christchurch event, Queenstown is getting the mystery dinner treatment on Friday 18 October. We caught up with one of the country's leading chefs, Corey Hume, who spearheaded this mystery dining event.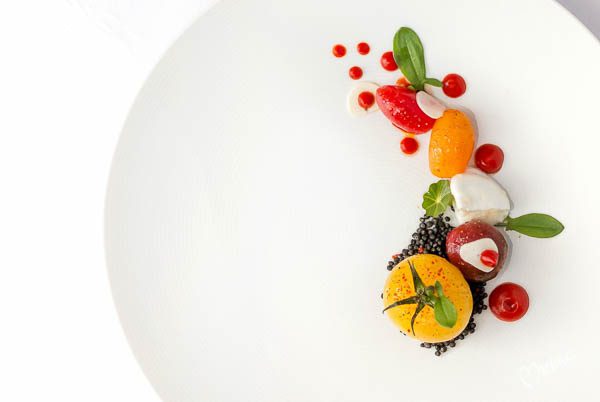 Can you tell us a bit about your culinary journey?
I trained at Christchurch Polytechnic in Professional Cookery under the guidance of Neil MacInnes, the coach and manager of the New Zealand Culinary Olympic Team and Dennis Taylor who was a great technician.
While there, I was approached by Armando Javellana who was the best pastry chef in New Zealand at the time, and decided to specialise in Patisserie. I first started to represent New Zealand in 1997, winning multiple international gold medals and being involved in the Australian and, more recently, the New Zealand Culinary Olympic Team.
In 2004, I was judged as the Best Seafood Chef in New Zealand, at an invitation only contest for New Zealand's leading chefs.
I've since worked around the world and opened the first SLH property for Six Senses in the Middle East, which is one of the top resorts in the world. For the past eight years, I've been working at Blanket Bay as their Executive Chef and gained exposure in several Michelin starred restaurants in the United States; Gary Danko, Quince, Coi and The Restaurant at Meadowood, the last being such an inspiration to work in.
I'm a board member and Coach for the Bocuse d'Or New Zealand. The Bocuse d'Or is the most extreme and demanding culinary competition in the world today for an individual.
My style is always evolving.  I like all types of food, and I have big influences recently from Japan, Singapore, the USA and New Zealand of course. I'm really proud of the food that is being served in from certain restaurants around New Zealand. They give me hope and encourage me to keep moving forward and to never stop growing as a chef. People often told me what I couldn't do, and I've since proved them wrong. I still intend to!
---
What attracted you to the industry?
My passion for food, art and the discipline required daily to be great at what you do in this industry.
I did well in art at school, but I found it somewhat limiting, and I really liked working with food. One of New Zealand's most prominent Chefs sat me down and told me about his career when I was in high school. I was hooked. My tutors at Polytech were very encouraging.
Back then, I felt like Charlie and the Chocolate Factory, I had discovered a world where I knew I belonged, and that world of Chefs and cooking was happy to embrace me.
---
How did you become involved with Ronald McDonald House?
In one of my roles representing New Zealand overseas, I met one of America's greatest Chefs', Reimund Pitz who was the Continental Director of the Americas for the World Association of Chefs Societies. He had started a great movement with the ACF Chef & Child Foundation and it was inspiring. I thought I could do something like that when I was older.
I couldn't wait, so after a quick chat with some young Chefs in Christchurch who were keen to support my not so crazy idea- that young NZ Chefs could cook with a senior mentor to help raise funds for a Charity. It was about a movement at the time in our industry I was spear heading to give younger Chefs more credibility around the world.
In 2002, I literally dressed up in a suit and hit the pavement in Christchurch, knocking on doors, offering to tell my idea to a Charity who would listen.
A lot of charities weren't interested surprisingly. I even went into the Children's Ward at Christchurch Hospital with no luck. My Grandad mentioned about Ronald McDonald House opening in the South Island after seeing an advert in the paper. So the next day, I approached the Chairman at the time, Stuart Leck, to relay my idea. He was keen. This was before the House had even opened.
Very few people knew of my idea to say the least, and I wanted to make sure there was an interested charity first!
I had the full backing of Canterbury Chefs, a branch of the New Zealand Chefs Association, and from then onwards, the rest is history! I was 25 years old at the time. The first event was called Miles of Smiles, and it was about young chefs, supporting young children in hospital and their families.
Since I had moved overseas in 2006, I had lost touch with the initiative, but was very happy to have RMHSI's events advisor call me inadvertently to ask if I was interested.
Little did she or I know how the conversation was going to reignite my passion for the cause as I had no idea that the event was still running! I was blown away to see how it had been transformed.
I was only too happy to be involved again! Since I had left Blanket Bay, I had joined Ryan Henley, The Chef de Cuisine from Pescatore at the George Hotel for the Christchurch Supper Club in June.
---
How important is supporting Ronald McDonald House South Island to you?
I spent a lot of time in Christchurch Hospital as a child. I understand what it is like for the children and how having their families close to them can literally mean a real difference in their recovery from illness and support during some tough times. It's hard for them to be able to tell adults this, but it's something that I'm sure gave me the strength to carry on and saved me from dying multiple times when I was close to the edge. The support of my family being close certainly made a difference looking back as an adult.
I feel like this fundraising event is a voice for them, that it's a way we as adults can come together over a plate of food cooked with love, to help support families who are there to support their children in their time of need.
It's been my way of giving back to the community of Christchurch that has supported me through my earlier career by paying it forward.
---
You've got the iconic Ronald McDonald House mystery dining experience – Queenstown Supper Club – coming up on Friday 18 October. What can guests look forward to from the night?
It will be another memorable event. It's going to be a great night in a secret location, which is really special, hosted by some former Supper Club attendees. Great to see for them how it's coming full circle, and for me to have the opportunity to cater for them. It will be a memorable night in a truly memorable location.
---
What do the next 12 months have in store for you?
It's an exciting time ahead! I'm grateful for the experience I had with Blanket Bay as their Executive Chef, where I've had the privilege to cook for some of the world's most discerning and influential diners.
Now I'm starting my own business. I'm excited about being back in the public forum, but my focus will be on private dining. I've had numerous requests over the years to be cooking for people in their homes, and I hope to make Queenstown my base of operations, going as far as overseas if required.
Running my own business is something I have always wanted to do, and of course it'll be with my own twist. It's about providing a personalised experience above all else to a wider range of people, as I have a broad range of dietary requirements that I'm able to cater for in the future.
I aim to bring that international exposure I've had to people's homes, venues and unique locations in a bespoke manner, individually tailored to their needs and unique dietary requirements. To tell a story using the ingredients from  New Zealand with a unique point of view for locals and international guests with a wow factor for those who want something a little different in a particular way that I envisage.
In addition, I'll be collaborating with different artists as well on related projects which I can't say anything more about at this point in time, but which I'm very excited about. I'm extremely creative and like nothing more than collaborating with like-minded and passionate people, where we can bounce ideas off each other and have the means to create truly memorable experiences.
www.rmhsi.org.nz/event/queenstown-supper-club-2019/
---