---
Vitamin C's the hottest thing to hit skincare since sliced bread. We've got a big dose of everything you need to know about this antioxidant and why we're crushing on it right now.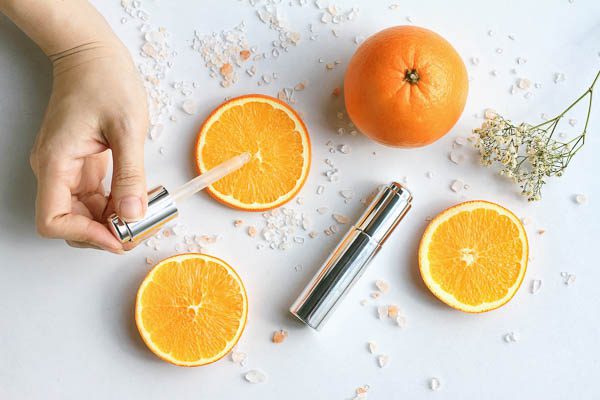 As the new 'it' ingredient in skincare, Vitamin C has been adding muscle to our beauty regime over recent years with its antioxidant super powers. We up the vitamin internally in the winter, so externally, it's logical to utilise the superhero's properties to help fight those unavoidable free radicals in the environment – these arch enemies of our skin.
Winter especially ravishes our faces with free radicals such as pollution, and the drying effects of cold winds and moisture-zapping home heating. We need plenty of collagen in our skin and neutralising antioxidants to be able to fight back – Vitamin C does both.
The vitamin's role in collagen is essential. It is the structural protein our bodies need to create the connective tissues for our entire body. This building-block protein plumps skin with firm elasticity and luminosity. Collagen synthesis sadly decreases with age in our bodies, so the more help we can get from both inside and out to infuse the powerful C into the skin's structural matrix, the better.  By incorporating the vitamin in a form that is readily bioavailable to our skin, quality beauty products can now help heal, nourish and protect from the outside.
And the science does stack up quite nicely. From serums to creams, the new age in skincare claims, in many cases, to help prevent and even reverse signs of aging such as wrinkles and age spots. Vitamin C as an antioxidant helps regulate skin tone. In a multitude of game-changing new products, it works in effective synergy with other antioxidant skin savers. Packaging and storage is also important to protect the vitamin's effectiveness from light, heat and air.
Yet another little trick up its beauty sleeve, Vitamin C neutralises chlorine, which can dry the skin. So for a bath that doesn't smell like a swimming pool, add around 1000mg of Vitamin C in powder or effervescent tablet form to counteract chlorine tap water.  It's really a wonder that Vitamin C only comes third in the alphabet – but it comes first in our toiletry bags this winter.
---