---
You might have missed the boat on creating a zen working from home space ahead of lockdown, but we think this time will just be the starting point for more flexible workplaces. So now's your opportunity to make a space that is both calm and productive.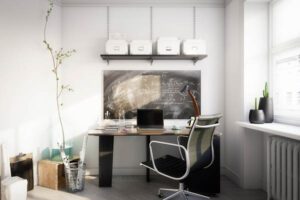 SMART STORAGE: Organisation is key with at home workspaces! There's nothing worse than a cluttered desk – if it has nothing to do with work (eg. baby toys, gaming consoles or even dirty dishes) then remove it from your area. Incorporate vertical or horizontal shelves for smart storage and make access easy with it being just a chair roll away from your desk. If you're having clients that are coming into your home office, rolling shelves are a great option. They can be moved to be less visible in a matter of seconds.
LEARN TO LABEL: Invest in a label maker because you will learn to love it. Labelling drawers allows you to know what's inside each one and means that everything will be put back in the correct spot.
COMFORT IS KEY: The most important piece of furniture in an at home workplace is the deckchair. You're most likely going to be spending a lot of time sitting down in it, so it makes sense for it to be comfortable. But it doesn't have to be the only crucial chair in your life… adding a beanbag or lounge to an office can give you a place to unwind for 15 minutes. This prevents you from wandering off into the loungeroom and procrastinating.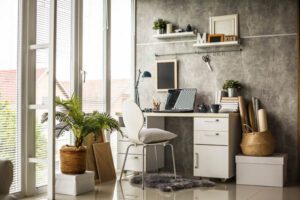 SELECT A SCENT: Smell, being one of the five senses, can control your moods and emotions. They also add a personal touch to any space. Create a calming environment by selecting a signature scent for your office.
IT TAKES TWO: As handy and portable laptops are, having a second screen makes working at home that little bit easier. There's no need to be flicking through tabs, you can write notes down while watching a video or even look over data while talking to your colleague on the other screen. This is especially handy if you're used to using two screens at your usual work office.
GREEN THUMB: Going green is a movement that is trending for a reason. Adding a low maintenance plant will not only add a pop of colour, some plants even help to improve air quality. Besides, having a living thing in your workspace that requires you to go in and water it gives you good reason to always be in there.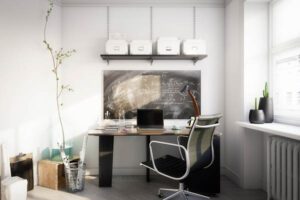 ---