---
The world is going through a period of radical change with the arrival of COVID-19 and the economic impacts will be far-reaching. We caught up with Designer Homes Executive Director of Marketing Ajit Kumar about the effect of COVID-19 on New Zealand's residential housing market.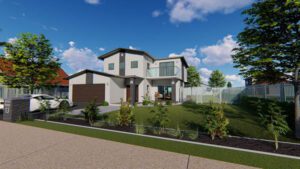 ---
Ajit, how does the situation look for purchasing property at the moment?
From data published by QV, we know that residential house values are increasing in Auckland, Christchurch and Queenstown, and property investments are still more popular than bank investments.
Current interest rates offer little reward for retaining cash investments and property is still considered a safe bet that doesn't experience large down-swings, even during a recession or a pandemic.
---
What would your advice be to first-time home buyers?

The same advantages still apply – you avoid paying rent and capital gains secure your future.
Plus, you can't beat the autonomy of owning your own home, avoiding the interference of a landlord.
As per a recent report released by Trade Me Property, first home buyers are flooding the property market to take advantage of low interest rates and the Reserve Bank scrapping LVR restrictions.
---
What is your take on getting into property as a new investor?
Examine your investment time-frame. Property looks to be a solid investment option if you are looking at an 8-10 year horizon.
Even taking into account the COVID-19 pandemic, the New Zealand property market seems to be comparatively better compared to other sectors: home loan rates are low and expected to reduce, while the current global uncertainly means Kiwis abroad might return to their roots, and either buy or rent, so there is an opportunity for investors to benefit.
---
How is Designer Homes placed to help with decisions about property investment?

We've been established since 2016 with our head office in Christchurch and our branch office in Auckland.
Since our inception we've had just one goal: to create affordable, innovative homes that reflect customers tastes and the way they live their lives.
---
What advantages can Designer Homes offer a first or second home buyer or investors?

You choose from a range of very affordable packages – house and land, or house only.
With Designer Homes as the central stakeholder, customers have a say in the architectural style of their home.
Emphasis on quality materials means the home will still look superb thirty years from now.
There is total flexibility in colour palettes, and you can access your construction status from anywhere using your unique I.D.
Select customers get Smart Home Options at no additional charge.
We also offer amenities like central air conditioning, and clients specify interior corners, facilities, ceiling, washroom and kitchen utilities.
We are handling 35 residential projects in Auckland, Christchurch and Queenstown and we would love prospective clients to view our work.
For more details please get in touch on enquiry@designerhomes.kiwi.nz.
---