---
Having just celebrated its first anniversary, the Nurse Maude Hospital has become home for those needing long-term residential, end of life, complex and respite hospital-level care.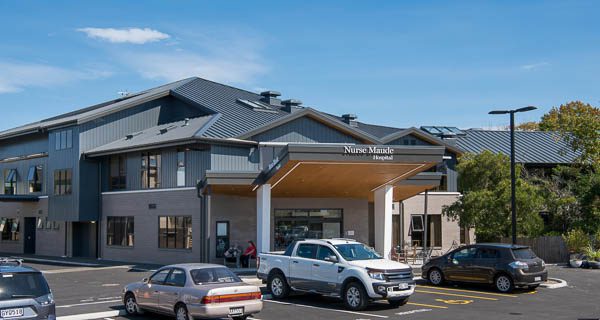 With its large established garden and streamside walk, the residents enjoy warm and secure surroundings, each with their own ensuite, large communal and smaller private lounges.
Nurse Maude's nursing and medical team works alongside residents and their families to provide the very best individual clinical care with skill and compassion.
That care is based on the values that were established almost 125 years ago when Nurse Maude herself cared for some of the most vulnerable and frail in the Christchurch community.
Having a sense of purpose, fun, meaning, control and dignity are all key elements of the care.
Family and friends are a large part of that, with visits welcome at any time, including those from the family dog.
"This is, after all, the residents' home and they deserve no less," Nurse Maude General Manager of Marketing Sue Bramwell says.
Meeting the individual needs of residents, many with complex health needs, takes a responsive, skilled and flexible approach, and the total commitment of nursing staff and specially trained volunteers.
A sense of loneliness or social isolation can be a large part of getting older for some, so along with that nursing care, Nurse Maude makes sure residents get the time they need to be listened to and enjoy the company of others.
"It's important for our residents, and their families, to be able to trust that we will look after and respect them and never forget they have had full and interesting lives before they came to live here," Sue says.
"Meeting their desire to be as independent as possible, to continue to be involved and know that they matter is just as important as meeting their health needs."
Residents at the Nurse Maude Hospital may be fully funded and there is no charge for those needing palliative care.
"We can also provide private and respite care," Sue says. "And we can step you through the process for funding and admission."
Situated in the heart of Merivale, and surrounded by shops and cafés, the Nurse Maude Hospital also has its own café where residents and their families can enjoy coffee and great food.
"If you're thinking of long-term or respite care with us then the best place to start is to ring and ask for a tour of the hospital. From there you can discuss what options are best for you," Sue adds.
---