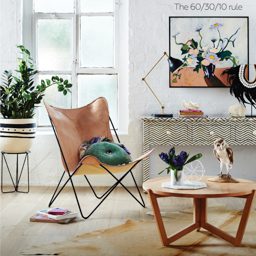 Colour by numbers: Updating the Home
With colours, fabrics, furnishings and accents all part of the redecorating equation, updating your home is easier said than done. The art of creating a space that makes an impact takes creative courage and a sense of conviction that you know what you want.
But as with anything, there's some clever rules that will make the task seem a whole lot less arduous and decorating your space can be as easy as 60-30-10.
The classic rule of three – which has been put to everything from marketing, to floral arrangements and even writing – is a simplified way to create beautiful rooms with cohesion. In this case, three colour families are used to add balance and depth to a room.
How this plays out in your room is that 60 percent of a room's colour is achieved through a dominant wall colour, flooring and large-scale furniture, like the white walls in our beautiful cover image by Fenton and Fenton; 30 percent of colour will come from furniture, textiles and lighting; while 10 percent, not unlike jewellery, provides that little something special.
Get clever playing with ratios and get some colour confidence when it comes to decorating your home.