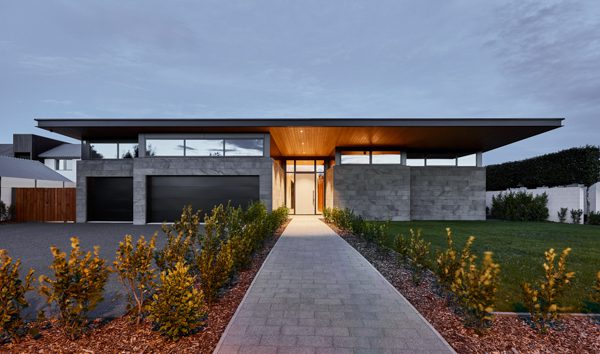 Clearwater's clever construction: we talk to Phil Benton Builders about building a dream home at one of Christchurch's most expensive addresses
The second priciest street in Christchurch is Mayfly Lane at Clearwater, where the lake frontages make you feel a hundred miles from anywhere. Phil Benton Builders has just completed number ten. The angular street frontage is dramatic. The vast roof is sharp, while the not often seen Bluestone cladding mesmerises with its patterns.
"The weight of the stone was significant and it was a first for us to use Bluestone as an exterior cladding," Dave Fraser of Phil Benton Builders says.
The construction method was untypical. "It is a residential house, yet we used commercial building techniques to create it," Dave says.
"We erected all the structural steel first, put the roof on, then installed the membrane roofing before working on the framing beneath."
"It is a unique house," says Mark Allworthy from Bates Joinery, which completed the interior joinery. "The products and finishes are quite different to what is commonly used right now. The heart rimu veneer was widely used in the 80s until American White Oak took over. A challenge on this build was the rimu veneer coming only in sheet lengths of 2.4m but we had ceiling heights of 3.6m, so there was a lot of grain matching to do to get the finish perfect."
The entrance way is a favourite feature. "It is quite spectacular with the vertical fins in the den, though the room separator door for the media room is also very cool. We do a lot of work for Phil Benton Builders, they are a great team."
Designed by Heather Blewett of Context Architects, the brief was to create a contemporary yet grand home with flexible living options. "Whilst the clients loved the site at Clearwater, they wanted something that looked different," Heather says.
The clients were not keen on the golf resort's signature 'white gabled' house and, with Clearwater's strict design rules and the need to be sympathetic to existing homes, it proved architecturally challenging. But Heather is very pleased with the finished product.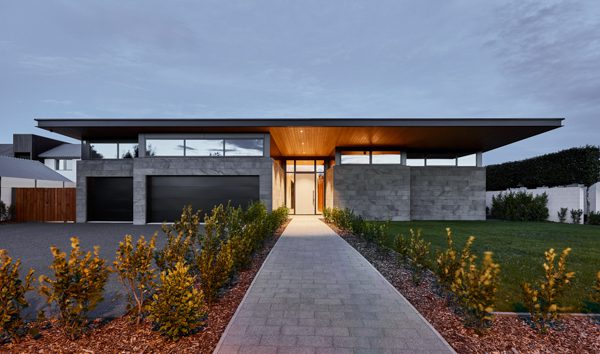 "Phil Benton Builders have taken great care crafting the home, and the overall quality of the build is extremely high – they went the extra mile to deliver solutions that worked."
"We had site meetings with Context every two weeks and they were always available to provide extra details or support as required," Dave Fraser says.
"There is such a mix of woodwork in this house and Context did an incredible job being able to pull it all together the way they have."
Project Partners
Context Architects
Ph: 03 3550 1550
Web: www.contextarchitects.com
Phil Benton Builders
Ph: 03 374 6203
Web: philbentonbuilders.co.nz
Bates Joinery
Ph: 03 388 8111
Web: www.batesjoinery.co.nz
Pegasus Bay Electrical
Ph: 03 310 7823
Web: www.pegasuselectrical.co.nz
Heatsmart
Ph: 03 313 4908
Web: www.heatsmart.co.nz