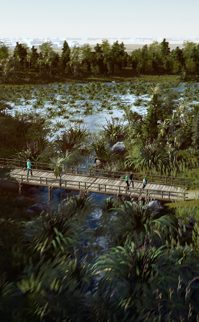 City's 'living laboratory': Christchurch is leading the way post-quake towards a cleaner and greener tomorrow
A green spine extending from the city to sea is poised to set Christchurch apart as a place that is prepared to explore new ways of living with nature – from adaptive housing to sustainable urban agriculture.
Walkways and biking tracks, wetland developments and a variety of other public and private land uses are included in a shortlist of potential options for an area of land known as the Ōtākaro Avon River Corridor.
Formerly Christchurch's 'residential red zone', the 11-kilometre stretch of land is nearly twice the size of New York's Central Park and four times the size of London's Hyde Park.
Regenerate Christchurch is responsible for developing the regeneration plan for the Ōtākaro Avon River Corridor and says a mix of naturally-occurring and new activities has potential to attract up to a million unique visitors a year.
A "green spine" will extend along the river, up to 150 metres wide on each side, with large areas of ecological restoration, wetlands and community spaces. Elsewhere, there will be three significant areas suitable for a variety of potential public and private land uses reflecting themes of food and culture, experiencing nature and activity and play.
"These will create opportunities for school children and researchers to learn about the natural environment to better understand the challenges and opportunities within a truly living laboratory," Regenerate Christchurch Chief Executive Ivan Iafeta says.
Regenerate Christchurch has developed a refined shortlist that will feature in an upcoming public exhibition. Ivan says implementation of the plan is likely to be the beginning of a 30-year intergenerational programme of work.