---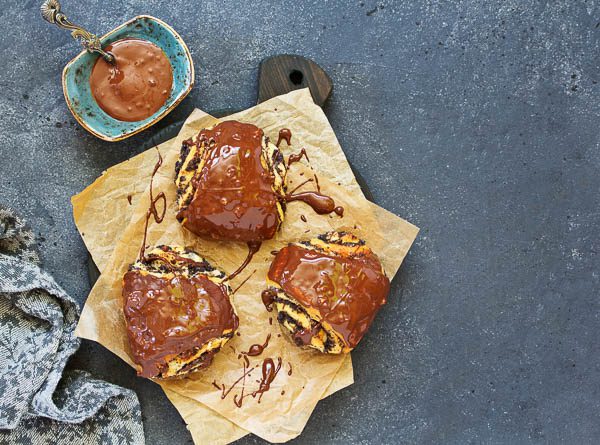 INGREDIENTS
For the dough:
400ml milk
110g butter
3 tsp active dried yeast
110g caster sugar
750g plain flour
1/2 tsp salt
2 tsp ground cardamom
1 large free-range egg, beaten
For the filling:
50g softened butter
50g caster sugar
200g dark Lindt chocolate, finely grated
Additional melted chocolate or chocolate sauce for serving
METHOD
Preheat the oven to 180°C.


---

Melt the butter in a large pot gently over a low heat and then add the milk. When the mixture is lukewarm, remove from the heat and add the yeast, whisking to incorporate.


---

Mix the flour, sugar, salt and cardamom in a large mixing bowl. Make a well and pour the wet ingredients in. Using a wooden spoon, mix until you have a rough dough. When the dough has taken shape and is no longer sticky, turn out onto a clean floured surface and knead for about six minutes until smooth and elastic. Dust with a little flour if you find the dough is too sticky. Transfer the dough to a floured bowl, covered with plastic wrap and a towel and let it rise for 45 minutes in a warm dark place.


---

To prepare the filling: In a bowl, beat the butter and sugar together until you have a smooth paste.


---

When the dough has risen, punch it down in the bowl, then roll it out on a floured benchtop into a large rectangle about 3mm thick. Spread the filling over this, leaving a 1cm space along the far end. Sprinkle with the chopped chocolate.


---

Roll up from the long end until you have a long tube of batter. Cut the tube into 5cm-thick portions. Place lengthways onto a baking sheet lined with parchment paper and press down slightly, making the shape of a Danish.


---

Place the buns on a baking sheet lined with parchment paper, cover with plastic wrap and allow to rise again until the buns have doubled in size. Brush with the beaten egg and then bake the buns in the oven for about 15 minutes or until they turn golden brown.


---

Serve with melted chocolate or drizzled with chocolate sauce. The buns are divine when consumed while still warm from the oven, with a scoop of icecream for pudding.
---