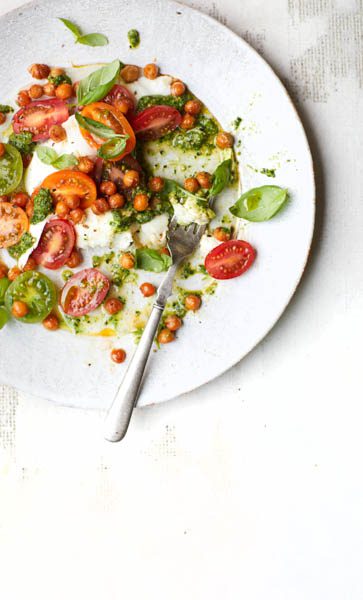 Chickpea Caprese Salad with spinach walnut pesto
---
A simple 10-minute starter which you could double up for a big sharing plate. Make sure all the ingredients (especially the mozzarella) are at room temperature – I've eaten far too many fridge-cold tomatoes and cheeses that don't taste of anything. Use any nuts, seeds or greens in this, but don't skip toasting the walnuts – it's worth it and you've got a pan out already for the chickpeas.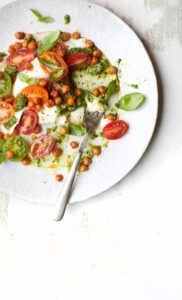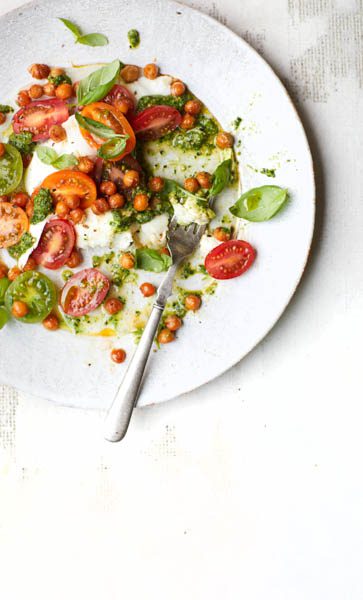 Feeds 4 as a side | Takes 10 mins
INGREDIENTS
1 tbsp ghee or oil
240g cooked chickpeas (1 × 400g tin, drained and rinsed)
1/4 tsp smoked paprika
2 tsp maple syrup
350g ripe cherry tomatoes, halved (look out for the yellow ones)
200g fresh mozzarella or burrata, roughly torn, or crumbled feta
Sea salt and black pepper
SPINACH and WALNUT PESTO
8 walnut halves
1 big handful of baby spinach
1 big handful of fresh basil, leaves and stems, plus a few extra for garnishing
2 tbsp apple cider vinegar or juice and zest of ½ lemon
1 small garlic clove, roughly chopped
1 handful of grated parmesan or pecorino
6 tbsp extra virgin olive oil, plus extra for drizzling
METHOD
In a large frying pan, gently toast the walnuts for one minute until they smell fragrant, keeping an eye on them so they don't catch.
Transfer to a food processor with all the other pesto ingredients except the olive oil. Blitz, adding the oil as you go, until smoothish. Season to taste.
Put the pan back on a medium heat with the ghee or oil, add the chickpeas, smoked paprika and a pinch of sea salt and fry fortwo minutes until golden brown.
Drizzle over the maple syrup, add a pinch of salt and leave to bubble for 30 seconds. Toss once more to coat in the salty-sweet oil.
Meanwhile, arrange the cherry tomatoes, torn mozzarella and extra basil leaves on a large platter, then scatter over the chickpeas, drizzle over the pesto and serve straight away while the chickpeas are still hot.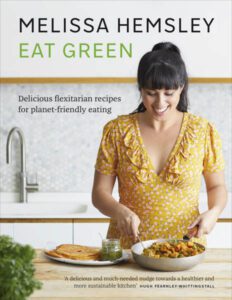 Extracted from Eat Green by Melissa Hemsley, published by Random House UK, RRP $50.
Copyright © Melissa Hemsley 2020. Photography © Philippa Langley 2020
---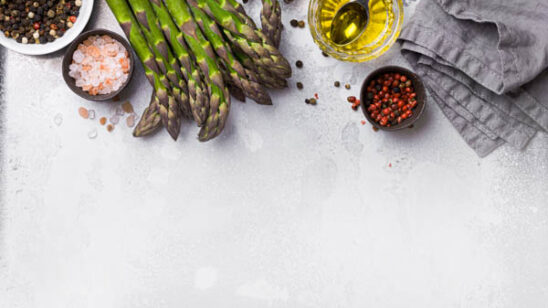 Previous Post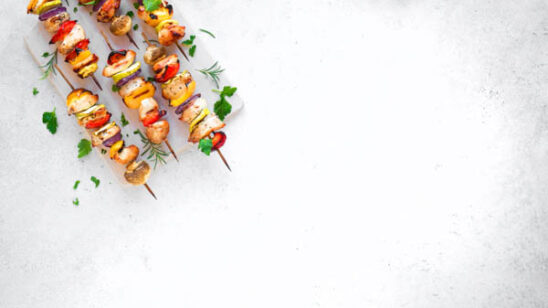 Next Post