---
Now that winter is mere days away, it is an ideal time to introduce the Norwegian philosophy of friluftsliv into your home. The philosophy of embracing the outdoors, friluftsliv (pronounced free-loofts-liv) is not just about being outside; it is also about bringing nature indoors to the lounge, bathroom and even the bedroom.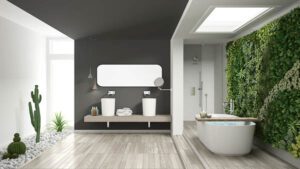 Whereas hygge is all about comfort, friluftsliv is about communing with nature in your own home, especially when it is too cold to go outdoors. Of course, there is nothing to stop you going outdoors either and experiencing the fullness of the philosophy.
For those like me who like to stay cosy and dry with the occasional snowy sojourn, friluftsliv is perfect. At the heart of the philosophy is the belief that one should in some way, connect with nature every single day, no matter if it is raining sideways or snowing or bitterly cold.
PLANTS AND GREENERY
Greening your interior is one way to achieve this. The world has such a rich and diverse range of plants, flowers, nature and wildlife that it is easy enough to create an indoor garden, even if it is just a few house plants. Group them together for effect or scatter them around the home.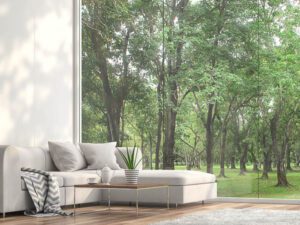 FAIRY LIGHTS
Add a few strings of fairy lights indoors and create your own green grotto. Stringing lights along balconies and up patio pillars can transform any area into a setting to be enjoyed day and night.
INDOOR GARDENS
Hanging baskets, herb pots on windowsills and even purpose-built kitchen gardens are all ways to go green. Anyone with a biophilic home design is more than halfway there!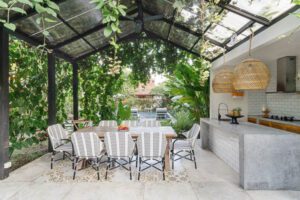 RUSTIC ELEMENTS
Adding rustic elements such as twig trees, seashells, rocks and driftwood are other ways to bring nature inside to be enjoyed.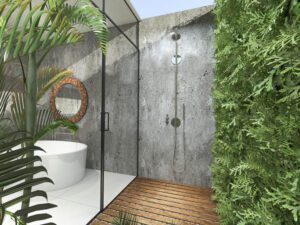 BOUDOIR BALM
Your bedroom can easily transform to surround you with nature. Think about hanging a scenic painting – a landscape, a seascape or even a moonscape – -and look to a natural colour palette. Invite natural light in, add a few potted plants and think about mirror placement to reflect greenery.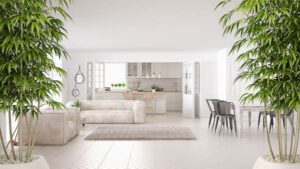 ---